Team Fidelitas
Team Fidelitas is all in. We're a group of roll-up our sleeves, help each other out, do-it-all individuals. We pour wine, throw parties, pack boxes, track packages, schlepp cases from here to there and back, make hotel reservations, make dinner reservations, make tasting appointments, mop floors, polish glasses, go to events, host events, and much, much more. Above all else, we work hard to provide relentless customer service to every Fidelitas Fan out there. Meet a few members of our team...
---
JESS ZANDER, FIDELITAS GM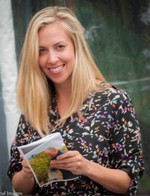 My story with Fidelitas begins like many others. I first met Charlie in the early 2000's as he poured wine at a table stretched between two barrels, in the back of another winery's tasting room. My 'interview' with Charlie was driving around dusty Red Mountain vineyards, learning his passion for the region that we call home. Over the past decade, I have come to share that passion and all that goes in to running a premium, family-owned winery, in one of the most exciting wine producing regions.
My professional life began in education. While taking wine classes for fun I realized that I couldn't bring wine in to the classroom, I decided to attempt a major career switch. After completing my certification with the International Sommelier Guild and a brief stint in fine dining, I was lucky enough land a job at Fidelitas in 2008. My first focus was on the Fidelitas Wine Club and Direct to Consumer Sales. As Fidelitas grew, so did my roll, and I accepted the General Manager position in 2014. The fast-paced environment, lively industry, wonderful coworkers, and of course, awesome wines are what keep me going.
I hold a BA in Psychology from the University of Washington. A Seattle-native, I call the Rainy City home with my husband and two daughters, and am lucky enough to travel frequently to sunnier Red Mountain. I love the integration of work and home life that comes with small business, and am often toting a kid through the cellar, tasting room, or vineyard. I enjoy cooking and entertaining at home, and will escape on a mini-vacation whenever possible.
---
SKYE DISSETTE, WINE CLUB CONCIERGE
I'm a Maryland native but have always had strong ties to Washington state. I received my B.S in Wine Business and got some hands on experience studying in France and working with a winery in Yakima. After moving down to Florida I had the opportunity to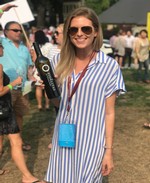 run a small wine shop and share the uniqueness of Washington wines. Wanting to get back in the action of it all, I moved up to the great PNW and landed myself a position with Fidelitas. The people I work with, the people I meet, and the wine I get to experience are the reasons why I love what I do. Aside from my passion of vino, I am quite the city rat. You might find me exploring different parts of Seattle with my husband and our adorable pooch, though we are making a big effort to take more hikes! All I need is a bottle of 2012 Estate Vineyard Cabernet Sauvignon, some tacos, a Cowboys game (that we actually win), and I'm one happy camper!
---
WILL HOPPES, WINEMAKER IN TRAINING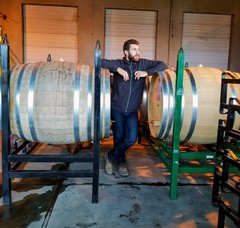 I took over management at our Woodinville tasting room at the beginning of 2017, but I've been working for Fidélitas much longer than that – since I was about 13 years old doing everything from working club events taking out the trash and cleaning glasses, to working harvests and summer breaks racking, blending, and bottling. Growing up in a winemaker's household has given me a deep appreciation for food (especially cheese), a palate geared towards Red Mountain wines, and great respect for all of the hard work that goes into making a great bottle of wine. I've now moved over full-time to the winemaking side of things for harvest of 2019 - Fidelitas' 20th.
After receiving my BBA, Finance at University of Portland in 2014 and working in Investment Management for 2 years, I wanted nothing more than to be back in the wine industry. I took a job at Nicolas-Jay, a Willamette Valley Pinot-producing startup which ended up being exactly what I needed: a nine-month crash course in the wine business. I left just after working the 2016 harvest.
Away from work I enjoy (besides drinking wine, of course) watching Seattle sports, playing golf, exploring happy hours with my girlfriend, and drinking craft beers – I did live in Portland for 7 years after all. Give me a bottle of Optu Red, Quintessence Cab, a big cheese board, good friends to share it all with, a Seahawks game on the TV and I'm all set.
---
STACEY HILL, KEEPER OF THE BOOKS + IMPORTANT THINGS
Growing up in a small town in Eastern Washington has given me a lot of exposure to the agricultural environment.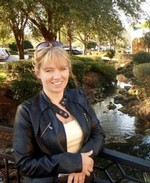 Watching the growth of the wine industry in the past decade has been intriguing to me, it's hard to ignore the orchards turning to vineyards everywhere you drive in Washington. My bookkeeping experience has given me the opportunity to work behind the scenes for Charlie Hoppes and his staff. It's fascinating to see the complexities and the day to day operations in the wine making world. It's exciting to work with such a wonderful team, and see the amount of effort that goes into making such great wines!
---
MITCH VENOHR, ASSOCIATE WINEMAKER

Mitch Venohr is the Associate Winemaker under Charlie Hoppes at Fidelitas. He started his winemaking career on Red Mountain in 2002 as an apprentice at Blackwood Canyon where he worked in the vineyard and cellar while he was pursuing his degree at WSU in the Viticulture and Enology program, which he graduated from in 2006. From there he moved on to work the vineyard, cellar, and tasting room at Gamache Cellars which eventually led him to Fidelitas in 2010, where is has used his Red Mountain history.
---