December 3, 2019 | Events, Holidays, Wine Club | Alexandra Hager
'Tis the Season for Fidelitas Wines
T'was the night before Christmas, when all through the cellar
Not a creature was stirring, not even a pup (Griffey);
The stockings were hung by the barrels with care,
In hopes that St. Fidelis would soon be there;
The cellar crew was nestled all snug in their beds,
while visions of Ciel-du-Cheval wines danced in their heads.
It's the season of giving and let's be honest, finding the perfect gift to give can be hard! I've notoriously been a horrible gift-giver. Now, I'm a gifting professional. My secret? Wine.
I keep a steady supply of Fidelitas on my wine rack- and not just for me. Fidelitas is the wine I grab for those that are close to my heart or for invites to holiday parties and meals. Not only is it the perfect 'thanks for hosting' gift, it pairs beautifully with food.
It's no coincidence that a stocking is the perfect size for a bottle of wine. Just be careful not to turn that fireplace on! Wine doesn't like to be too toasty. But, if you do enjoy chestnuts roasting on an open fire, crack open that bottle while you're at it.
For those friends who live too far to cheers with, Fidelitas ships wine at a flat-rate. Spoil them with a case and shipping is free. (P.S. members get 25% off on case purchases). We even have a crew of elves that will gift wrap each bottle and leave your gift message in a hand-written card.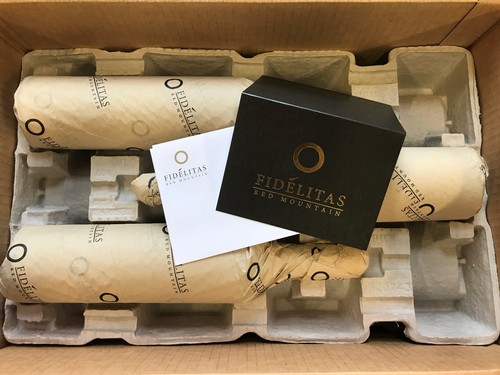 If you are like me, and want to give more than just a bottle of your favorite wine, give the gift of membership. A wine club membership is the ultimate gift that keeps on giving. Choose between our Optu Wine Club for those that are local or the Electus Wine Club for those in far away places.
Finally, spending time with those you love is one of the best gifts of all. Our hearts grow five sizes when members introduce us to their friends. Our tasting rooms are open 11-5 pm on Red Mountain and in Woodinville until December 22nd.