April 29, 2016 |
Jess Zander
I recently sat down with my staff to think about the real benefits of being a Club member, beyond just what we print in the Club brochure. Every member of Team Fidelitas contributed their ideas, and we came up with over 2 pages of notes. From that exercise, one of the items that stuck out to me most is that we truly make wines just for Club members.
Now – that is an easy thing to say for some. "Club-exclusive" is a common thing to see at wineries. However, I realized that it is so much more than that at Fidelitas. One of part of my job is to work with Charlie and design how our releases will look up to 3 years in advance. Already, we are talking about which wines we want to make from grapes that will be harvested this upcoming fall. That means, we are having discussions about how much fruit to buy 5 months from now to make a wine that won't be released until 3 years from now. We are looking at spreadsheets, and forecasts, and weather patterns, just to determine what wines we'll make for just our Club members. This isn't an after the fact decision. Your Club allocation is truly chosen by Charlie 3 years before you will take it home. Over the course of those 3 years, Charlie is ensuring that wine in your allocation is "one of the best we've ever made" (one of our favorite Charlie-isms).
Our 2013 Red Heaven Vineyard Cabernet Sauvignon is exactly one of those wines. We make this wine in exceptional vintages, where the fruit is just perfect to make a vineyard designated wine. After much fussing, we settled on making just 96 cases - not even enough to include in a Club shipment, but still special enough to make sure that it is a Club only wine. Designed, starting in spring of 2013, with the Club in mind.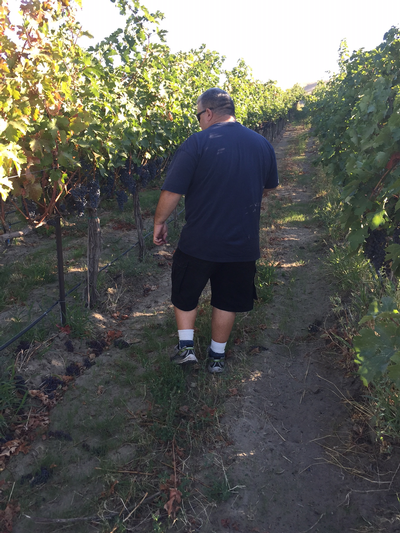 Charlie, walking the vines in Red Heaven Vineyard.