February 15, 2017 |
Amy Graham
Valentine's Day was yesterday and I was amazed at how many couples were out and about tasting wine. It was fun to see people taking time off work to spend it with each other. One of the perks of working in a tasting room is the ability to meet people, get to know them and recommend amazing wines to help them to remember their tasting. It's even more fun when you are able to recommend recipes to help make their special day even more so.
This month we are featuring our 2013 The Canyons Red Wine. It's a delicious blend of mostly Cabernet with some Malbec, sourced completely from The Canyons vineyard on the northwest slope of Red Mountain. It's wonderful by itself but paired with something spicy, it really shines.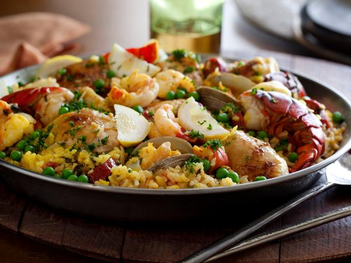 Try it with the Paella from Tyler Florence and it's a match made in heaven.
For dessert, chocolate is always a classic choice. It can be tricky pairing chocolate with wine so make sure you choose a dark chocolate - sweet chocolate taken with red wine will turn bitter and sour! For more on the science behind this, check this blog post from Palate Press out.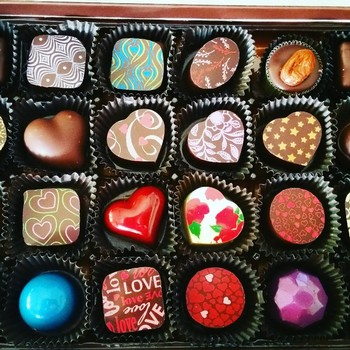 Choose a Flourless Chocolate Torte (recipe below) or some simple artisan chocolates for the perfect finale. Both are rich and delicious and are a wonderful way to end to your romantic meal.
Amy's Chocolate Almond Torte
1 ¾ sticks butter
7 oz blanched toasted almonds
6 oz bittersweet chocolate
4 large eggs, seperated
1 cup sugar
1/8 teaspoon cream of tartar (added to egg whites)
Preheat oven to 300F.
Melt butter and let cool. Grind almonds and chocolate together in food processor. Slowly add the butter to chocolate mixture. Beat the egg yolks and sugar until thick. Fold the chocolate mixture into the egg/sugar mixture. Beat the egg whites and cream of tartar until they reach stiff peaks. Fold into the chocolate almond mixture. Pour into 8 inch spring form pan.
Bake for 50 minutes, cool on rack. Dust with cocoa powder and powdered sugar.