November 4, 2015 |
Jess Zander
My husband just sent me a picture from the grocery store that already had a bunch of Christmas decorations on display. He was truly sad that "the grocery store skipped Thanksgiving!" and also confused as to why someone would want a planter in the shape of Santa's boot. I can't blame him on both accounts.
In all honesty, I don't mind getting a little ahead on Christmas and gifts and whatnot (I'll be honest…I just sent out a gentle gift pack blast to our email list…but waited until after Halloween!). It's always been a personal goal to have my shopping done before Thanksgiving, with an extra case of wine on hand for last minute gifts. That way, I can just enjoy the weeks that follow.
However, I am not okay with skipping Thanksgiving all together. It is truly one of my favorite holidays. Good food, beautiful décor, and my best friends and family all in one place. I keep hearing people talk about serving cheap wine at Thanksgiving so one's obnoxious uncle doesn't get into it. However, I don't worry about that in my house, and would like to drink good wine that pairs well with great food on this day of feasting.
This year, my picks for Thanksgiving are 2014 Klipsun Vineyard Optu White (quite possibly my favorite vintage of Optu White), along with 2012 Red Mountain Merlot and 2012 Champoux Vineyard Magna Red Wine. The Optu White is to serve with appetizers – a simple cheese board and a gorgeous crudité platter.
Both of the reds are perfect for Thanksgiving. They have bright acidity (good because they'll help cut through all of those rich foods on the table), soft tannins (good because they won't overwhelm any of the dishes), and are down right elegant wines to drink. We'll serve these wines with the dinner itself to match all of those rich and earthy toned foods common to the Thanksgiving table. If you have people that want to drink white wine with dinner, I guarantee that Optu White is rich enough to stand up to the dinner and is going to be an awesome pairing with the turkey.
While we're at it, I think I'll throw in a bottle of the Late Harvest Semillon. This is a special occasion…a great time to open a special bottle! This wine is one of my favorites for any fruit based desserts, but is going to be great with that pumpkin pie as well.
Cheers! No matter what your own agenda is during these final weeks of 2015, I hope you find the time to celebrate one holiday at a time with the ones you love.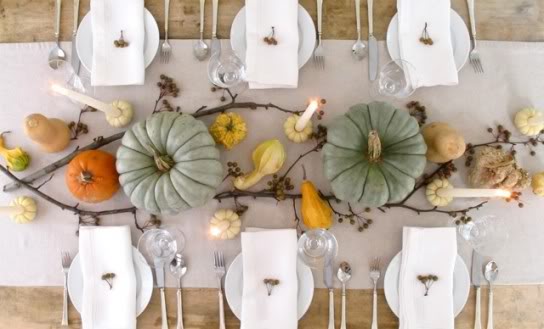 When I grow up (or don't have a 2 year old to tear the house apart), I am going to create beautiful scenes like this for Thanksgiving.