July 26, 2016 |
Jess Zander
Earlier this month, the Red Mountain AVA Alliance hosted a group of trade personnel from around the country for a Cabernet Summit. The purpose was to show these wine professionals what makes Red Mountain unique as a wine grape growing region. I was lucky enough to tag along for most of the 3-day adventure, as I had the role of 'van driver' for much of the time, toting our guests of honor around the Mountain.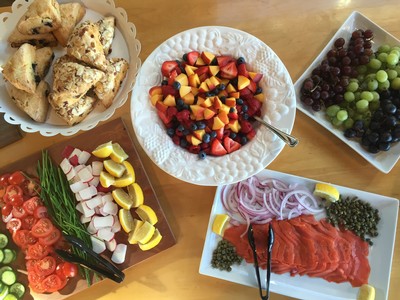 Fidelitas' Bagel Bar
The Summit was a blend of activities: a geology lecture, tastings led by a Master Sommelier (who I knew from my old ISG days!), vineyard tours, winery visits, and amazing meals with paired wines. Through all of this, there were a few key points that stuck out to me. Maybe they are different than what our visitors took home, but they are the ones I am choosing to share today.
1 – Red Mountain is our home. And home to a lot of other great people.
I pulled up to dinner #1 – my favorite tacos on the patio of Kiona – after a grueling 6.5 hour drive from Seattle to Red Mountain (more than 2x the normal drive time). Everyone was sitting in the evening sunshine, enjoying the most amazing tacos, drinking awesome Red Mountain Cabernet, catching up on wedding plans (congrats Kasee and Mitch!), kids' activities, winery parties, and how to get Uber into the Tri-Cities. Being just 4,040 acres, this is a tight knit community where everyone is excited to see one another and truly cares about each other's lives and well-being. That terrible drive was quickly forgotten.
2 – We may be young, but we have staying power, and bring a competitive edge to international brands.
We hosted two seated tastings during the Summit. The first focused on the ageability of Red Mountain, while the second was a blind tasting where participants compared Red Mountain Cabernets to the same varietal from around the world.
We determined that Red Mountain has the stuff to create a highly ageable wine. Good tannin structure, bright acidity, and balanced fruit all come from the specific weather trends, soil types, and terroir that is specific to Red Mountain. It's up to the winemaker then to create a wine to last. The Hedges 1993 Red Mountain Cabernet Sauvignon was surely hanging on, and tasted great in a line-up of younger and much younger wines.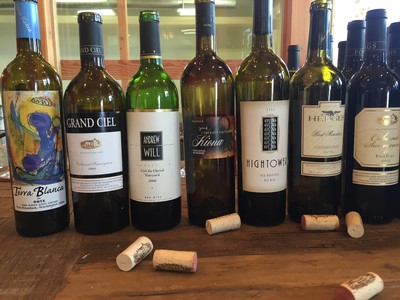 When compared to the rest of the world, Red Mountain did have some unique characteristics that set our wines apart from those around the globe. Tasting four Red Mountain Cabernet Sauvignons blind, and mixed with Cabernet from Italy, Bordeaux, Australia, and Napa, we found that Red Mountain showed brighter and fuller fruit, depth balanced with acidity, and less of the pyrazines (green tones) than its cousins from other growing regions.
3 – Every vineyard has its own story, and winemakers love the variety within the AVA.
"Some of these vines are as big as a maple tree," Scott Williams told us, as we stood in the Old Block of the Kiona Vineyard. These are some of the most established vines on Red Mountain, and while maybe not quite the size of a maple tree, they are far larger and taller than anything else we toured. Self-regulating and lovely, this block provides the fruit for Kiona's OLD BLOCK, which Charlie pegged as one of his favorites in the Red Mountain vs. the World tasting.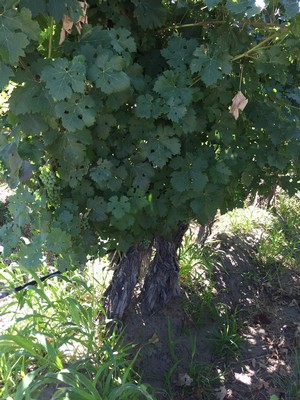 Far on the other side of AVA, we stood in Quintessence Vineyard, which began planting in 2010, and continues to be developed today. Managed by veteran Washington grower, Marshall Edwards, Quintessence is trying new clones, new planting styles, and producing some quality fruit for a number of Washington labels. We tried 4 different winery's Cabernet from Quintessence Vineyard and each was truly different from the others.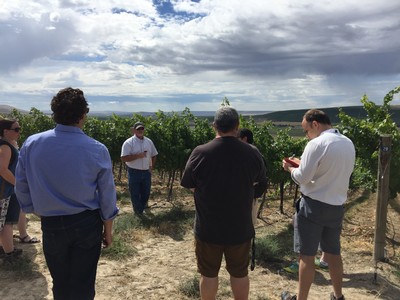 Charlie, Brian, and Marshall discuss the clones of Quintessence.
These are both vineyards that Fidelitas sources fruit from, in addition to 7 other vineyards around the Mountain. That is a lot from such a small growing region, but Charlie would call it his spice box from which he pulls all the key components to making a strong line up of Red Mountain Cabernet Sauvignon.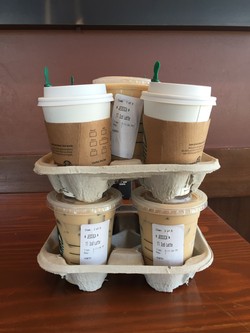 Tasting wine and touring vineyards all day can really take it out of you.
Just this morning, I listened to feedback from those who visited us during the Cabernet Summit. We had folks from Kansas, and Chicago, and California, who all said that this trip taught them that Red Mountain really is a great, unique growing region, and that they cannot wait to share it with those around them.