June 18, 2015 |
Jess Zander
Ben and I celebrated our 5-year anniversary this past week. Time flies. Since we got hitched on the slopes of Red Mountain, it only seemed appropriated to do a wine themed trip to celebrate the date. We headed to our neighbors to the south to explore the Willamette Valley. Our three days of vacation took us to 6 wineries, a slew of restaurants, and one tiny little ferry. Here is what I learned:
Dirt is a big deal
Willamette Valley is over 52,000 square miles, subdivided into 6 sub-avas. Most vineyard sites lie between 200 and 1000 acres, but the AVA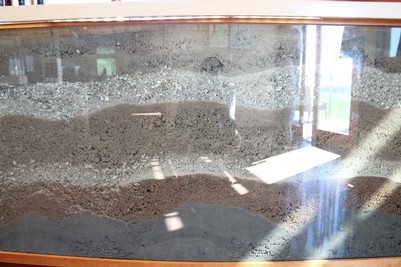 hosts mountains as tall as 1,600 feet and is protected by the 3,500' elevation coastal range. My point? There is a lot of variability. Some
vineyards cited sediment from the Missoula floods like we have on Red Mountain, others said they hosted marine sediment from when the Pacific Ocean covered the region. Alexana Winery told us that they have 15 different soil types in their 80-acre property, with 8 of those on display as the front of their tasting bar.
Clones are key
When you are essentially working with just one varietal (pinot noir) and all of that variability in the landscape, it makes sense that growers and winemakers are going to get geeky about clones. It was fun for me to see it in action since we are exploring the best clones for our own Estate Vineyard right now. (Remember, clones are genetically identical to their parent, reproduced via bud or shoot. Using clones is a way of promoting grapes that are more disease resistant, provide more or less skin to juice ratio, produced a desired yield…overall picking the right plant for the right vineyard. This is not genetically modified stuff…just natural selection with a little assistance via grafting.)
PS – I know that there is more than just pinot noir. We tasted some lovely pinot blanc and chardonnay as well :)
Vintage really matters
Willamette Valley is much more temperate than Washington's growing regions. Higher rainfall, fewer growing degree days, cooling coastal breezes all contribute to being pinot friendly, but it also means that we can really taste the difference vintage to vintage. Just a little more heat in 2012 showed a lot more ripeness in the wines (in some cases, to a point of being uncharacteristic of pinot noir). Pretty much every winery mentioned that their overall tonnage and case production varied greatly based on the harvest year. We've seen a bit of this in Washington (2004 in Walla Walla, 2010/2011 in the Horse Heaven Hills) but definitely not to the same extent.
They are a little different than us
Just like Seattle and Portland. So close that to an outsider, you might not tell the difference, but there definitely is one. The tasting rooms were GORGEOUS. Most of the ones we visited were the 'lifelong dream' of a couple that had established their resources elsewhere then came to the Valley. The overall feeling from a visitor is that everything was just a little more palatial and polished than us Washington folks. More so than that, the stories were different. Many wineries almost justified the fact that they sourced their fruit from other vineyards and every rose we had was introduced as being an 'intentional' part of their line up. Biodynamic, organic, and sustainable certifications were a big part of the selling points as well. All great stuff…just different.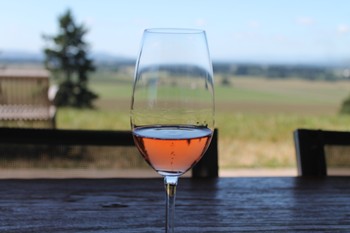 Places we tasted and wines we loved (in the order of our visit, nothing else)
Winderlea: 2014 rose of pinot noir and 2014 meredith mitchel pinot blanc
Alexana: 2014 pinot gris and 2013 revana vineyard pinot noir
Soter: 2010 mineral springs brut rose and 2012 north valley pinot noir
Bergstrom: 2013 sigrid chardonnay and 2013 gregory ranch pinot noir
Brooks: 2014 pinot blanc and 2011 rastaban pinot noir