April 8, 2020 |
Jess Zander
It's been a bit since we last posted. Sometimes it's hard to know the right words to say. However, our friends in the Washington Wine Industry kickstarted "SipGlocal", which encourages us all to sit down and spend some time reflecting and writing with a bottle of wine. Once the letter is done, roll it up, place it in the bottle, and save it for another day.
Wine is a different kind of industry. It's not a 'make today, sell tomorrow' kind of product.
At Fidelitas, we are just starting to release our red wines from the 2017 vintage. Three years ago, in the spring of 2017, I was 6 months pregnant with my second child. Charlie and I were working together to determine which grapes he'd source later that year and he then worked with growers to secure blocks of the perfect fruit. By that fall, my daughter was a few months old, and Charlie was deep into harvest, bringing in fruit and working long, long days in the cellar. For weeks on end, he cared for these wines before nestling them in their perfectly matched barrels where they'd hang out for the next couple of years.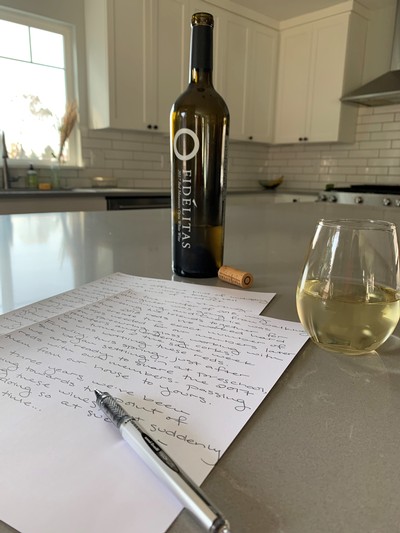 In the winter of 2018, my daughter was going from walking to running, and Charlie was starting to put the blends together for his 2017 reds. We carefully charted out the exact number of cases to make of each product, knowing that we got to share them with our members later on. The following months, I was ordering glass, working with screen printers, and sourcing our corks. In the summer of 2019, about the same time that Charlie was bottling, we were celebrating my daughter's second birthday. Finally, this spring, just after she was settling in at preschool, we are ready to share the 2017 reds with our members – passing them from our house to yours.
For three years, we've been working towards the point of sharing these wines, but suddenly, we're doing so at such an uncertain time. Do we all want the wine on days like this? Of course! But as an individual, a mom, and someone who runs a small business, I know everyone is thinking about their priorities right now.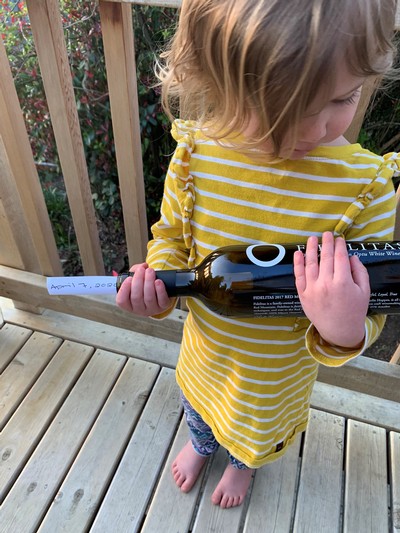 In writing this, I've learned that it is an emotional exercise to ponder all that has happened in the past three years. Even more emotional, is pondering what is coming in the next three.
What I do know is that we are more than fortunate to be surrounded by an amazing base of fans and customers. Life may look pretty different for a while, and that is okay. It's a great time to get to the bottom of our to do list and to open a few awesome bottles from the cellar. And when we are able to leave our houses, go back to the tasting rooms, share wine with friends, we get to shape those interactions to be intentional and meaningful. Who knew that being so distanced from one another would be the thing that actually connects us and brings us closer than ever?