January 8, 2020 |
Jess Zander
In preparation for this Sunday's Preview Tastings, Team Fidelitas sat down with Charlie to taste through the upcoming releases of 2017 red wines. As always, it was an awesome time to hear Charlie's honest thoughts on each wine as he tasted through each one and fielded the questions from our staff.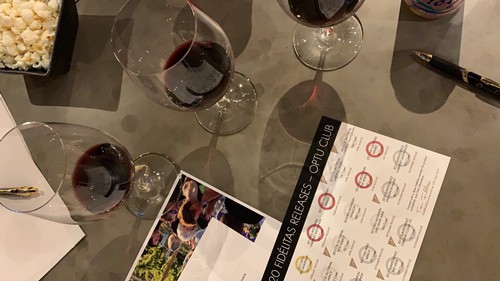 side note: we started our tasting time with a 2006 Columbia Valley Malbec, generously shared by Therese from her cellar. All of us were floored by the fresh, bright fruit tones that appeared in the wine! I'm not going to lie: 2006 was a warm (not hot…warm) vintage. I vividly remember Charlie's comment on that vintage when we released it: "sure…you can age them, but why? they taste great now." This wine was amazing, fresh, and surprisingly bold upon opening but wasn't as stunning when I tried it three hours later. It's Malbec…not Cabernet…so don't risk it. If you have it in your cellar still: it tastes great now.
I was in the tasting room recently, and someone asked me, "what is the plan of attack on the Preview Tastings?" and I honestly had a hard time coming up with the answer. To me, you taste the wines, you decide which you really like, and then you mark them down on your sheet and go. But what if you like them all or can't make up your mind or are honestly overwhelmed by the whole thing?
I think that as a taster, you need to think about your drinking habits. If you know that you are going to drink your wines in the next few months, maybe you want to get one of each offering for your allocation (quick! try them and reorder any that are still available!). If you have a good storage system (cellar, garage, or cases stacked against your dining room wall) maybe grab 4-6 of those awesome, cellar worthy Cabernets and then round out your add-ons with daily drinkers. Charlie says he never buys a wine in a quantity less than 6 bottles because he wants to taste it over the years.
If you're like me, you're going to play the inventory game. I'm only able to grab 2-3 bottles of each wine at a time, but you know that I'm going to get the ones that will disappear the quickest. Get those first, then maybe 1 bottle of the others so I can check in on it in a month or two and order more before it runs out. Since I'm the one who gets to count Fidelitas inventory on a weekly basis, I'm going to share my thoughts on which wines to grab first. Watch for full tasting notes on each wine to come next week!
2017 Red Mountain Merlot: When we asked Charlie what he liked about this wine he grinned and nearly shouted "it's Merlot! it's just fun!". My whole team could not stop making yummy noises about this wine. We're Merlot fans, but this is one that you're going to want as a daily drinker in your house. If you're looking for a wine to round out your case with, this is the one. Remember: you get an extra 5% off mixed case orders.
2017 Red Mountain Cabernet Sauvignon: We're so excited to see this as one of our first releases of the year, versus one of the last. This means that we'll hopefully be able to keep it in stock for a bit to enjoy over the summer. However, don't assume it's going to be around forever. This is such a lovely blend of Quintessence and Fidelitas Estate Vineyards that I don't anticipate it will last too long.
2017 Optu Red Mountain: *currently sipping this wine and blogging at the same time* This is the one wine that we have produced in every single vintage since our first one, way back in 2000. About a year ago, I got the technical info from our winemaking team on this vintage of Optu, and had so many questions. It was an amazing lesson for me in looking at a wine by the BLOCK (i.e. individual rows of grapes within a vineyard) versus the name of the vineyard itself. Charlie told us that he has this wine on his mind through the growing season. He's constantly tasting and testing each site to decide what will make it in to Optu. While this, like the Red Mountain Cabernet, is a higher volume wine for us (still less than 700 cases), I really doubt it will make it past the summer months.
On to the Ciel du Cheval Vineyard releases. If you haven't already, read THIS BLOG POST on why we moved Ciel du Cheval wines to a spring release time slot. During the course of our tasting, Charlie said "Ciel du Cheval Vineyard has a tremendous reputation. If Washington state had Grand Cru designations for our vineyards, Ciel du Cheval would definitely be one of them."
2017 Ciel du Cheval Vineyard Cabernet Franc: Charlie says, "of all the varieties grown on Red Mountain, Cabernet Franc probably has the most finesse. We don't go out of our way to make Cabernet Franc from other sites because they just don't show quality like the fruit from Ciel du Cheval". Only 142 cases produced on this guy…you're going to want to GET IT NOW.
2017 Ciel du Cheval Vineyard Merlot: Another very low production wine from Ciel, but with less volume allocated to Club selections. Basically, add-on with this wine because you can't customize with it. While tasting, our team was nothing but joyous giggles as we envisioned drinking velvet. That is basically what it's like to drink this wine.
2017 Ciel du Cheval Vineyard Red Wine: Do we all love Charlie's Merlots? His Cabernets? His blends? Ciel du Cheval Vineyard? Yes, yes, yes, and yes. There is a reason that Team Fidelitas loves this wine. It is fully a blend of all things good about Fidelitas. By the time our members grab their allocations, there will be very little, if any, left of this wine.
2017 Ciel du Cheval Vineyard Petit Verdot: Spoiler alert – we're releasing our first ever Red Mountain Petit Verdot later this summer. It's a multi-vineyard blend that is so much fun. We tried them both and I loved that each one was so different. The Ciel du Cheval, by comparison, was rich, floral, and focused. We're finding that Charlie's Petit Verdots are highly age-worthy, so definitely grab this if you have that storage system…whatever your style is.
2017 Ciel du Cheval Cabernet Sauvignon: I am hoping that by the time we are done with the Club allocation, we might have 30 cases available of this wine. That isn't much. Someone in our tasting mentioned that Ciel du Cheval has been nicknamed the "Queen of Red Mountain": a perfect balance of elegance and power. We all agreed that this could be called Queen Cabernet. So powerful, present tannins, loads of fruit, yet delightfully…feminine. Don't tell Charlie.
We can't wait to see so many of you this weekend! For those of you who are coming, take advantage of our Team, and ask them questions as you taste through the line up. For those who cannot attend, we look forward to helping you customize your selections when the allocation season opens next Tuesday! Finally, for those who are not yet members…you really might consider joining.