April 2, 2015 |
Jess Zander
This past weekend, I was lucky enough to sit in on the Red Mountain Seminar that was a part of Taste Washington weekend. We gathered in one of the conference rooms at the Seattle Four Seasons and were lucky enough to watch ferry boats come in and head back out while listening to the wise words of the panel before us. Our moderator was Sean Sullivan, who has his own blog, Washington Wine Report, and is a contributor to the Wine Enthusiast, reviewing wines from Washington and Oregon. I love Sean because has this never ending thirst for knowledge, meaning he asks real questions and honestly wants detailed answers. In an industry that seems to be changing daily, that type of inquisitiveness is a perfect fit.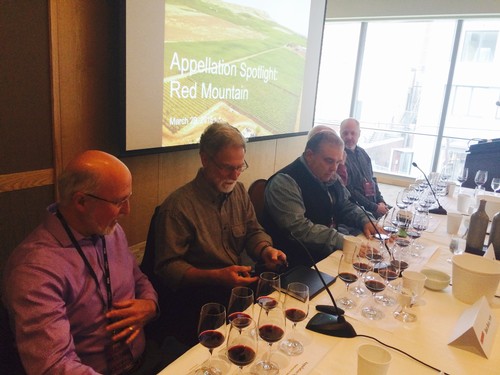 When I first sat down to write this article, it quickly turned in to an 8-page essay. Knowing that will never be read in the world of small, winery blogs, I decided to revise and just add a few amazing (paraphrased) quotes that I heard that day.
Kevin Pogue, PhD at Whitman College, geologist extraordinaire
Only the upper 200 feet of Red Mountain was showing during the Missoula Floods, meaning that the portion underwater received some great rocks from all over. In addition to the basalt, sand, silt, and gravel you find all over Red Mountain, there are some "weird rocks" like marble and granite mixed in.
What he looks forward to in the next 5 to 10 years? Jumping in more pits as vineyards are developed.
Jim Holmes, Ciel du Cheval Vineyard Owner and Grower, and one of the founders of Red Mountain
So much good stuff. The first people on Red Mountain were geeky and passionate about quality. They embodied the culture of terroir. Wines from Red Mountain can be picked out of a line up because they are richer/thicker/darker yet balanced/fresh/fun. People looking for a good wine story get "I went out, smelled the air, stomped the ground. That's it."
In 5 to 10 years? Jim sees new adventures, which makes farming constantly exciting. His definition of success is making what you've already done even better.
Charlie Hoppes, Fidelitas Owner and Winemaker
Fidelitas is currently sourcing from 11 Red Mountain vineyards and producing 17 different Red Mountain wines from a wide array of clones. Charlie loves Red Mountain for the intense fruit, tannic structure (which is managed in the cellar), and great variety within such a small region.
Charlie sees that there is still a lot to learn in the next 5 to 10 years, with new plantings and new clones bringing new flavors to experiment with.
Bob Betz, MW, Betz Family Winery Founder and Winemaker
Red Mountain brings so much to a wine, which can been seen in the phenolic make up of that wine. The chemical compounds that add to the flavor, color, and mouthfeel of Red Mountain wines are almost exaggerated (my word, not Bob's) in Red Mountain wines, making for some pretty intense stuff. 2012 is what could be considered a "Goldilocks Vintage" with 2011 being too cold, 2013 being too hot, and 2012 being just right in between.
Bob believes that in the next 5 to 10 years, the coming development will add to the dynamics and awareness of Red Mountain, but there are naturally acreage constraints in play as well.
Paul McBride, Force Majeure Owner
If Rhone can do it, why can't Washington? Paul took the vineyards on Red Mountain literally to new heights with the Force Majeure planting, where elevation and slope are drastically different from the rest of the AVA. Additionally, he brought in more Rhone varietals (Syrah, Mourvedre) to otherwise Cabernet dominated region, and has been pleased with the results.
In the next 5 to 10? An increased presence in the AVA, means more marketing, meaning national and international recognition. The people will be the ones who balance quality and passion.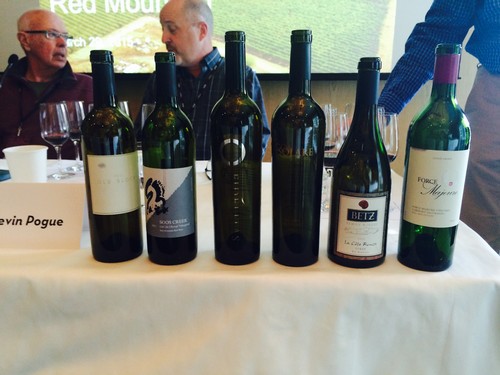 In addition to hearing these five experts speak about the region, we got to taste through six incredible wines and hear from these wineries as well. The room was truly jam packed with people passionate about Red Mountain. All sourced from the same 4,040 acres, these wines could not be more different from one another. What a great way to start day 2 of Taste!
Kiona 2012 Old Block Cabernet Sauvignon
Soos Creek 2012 Ciel du Cheval Red Wine
(62% Cabernet Sauvignon, 24% Cabernet Franc, 14% Merlot)
Fidelitas 2012 Quintessence Vineyard Cabernet Sauvignon
Col Solare 2012 Red Wine
(85% Cabernet Sauvignon, 7% Cabernet Franc, 4% Merlot, 4% Syrah)
Betz 2012 La Cote Rousse Syrah
Force Majeure 2012 Cabernet Sauvignon