June 12, 2019 |
Michelle Marsh
Every year we are met with the same signs that summer is here. At Fidelitas it's a once brown and bare vineyard turned to lush green, the release of our Semillon for patio season, and our dreadfully quiet tasting rooms once again filled with friends and new faces. One less obvious indicator that summer has arrived is bottling week at Wine Boss. There's nothing like watching the bottling truck pull up knowing that soon the wine that been waiting in barrel for the last 2 years is finally going to make its way into bottle, and eventually out into the world.
Bill Hamlin of Custom Mobile Bottling spent much of his early career bottling and packaging fruit juices and wine at Ocean Spray then Chateau Ste. Michelle which is where he and Charlie met back in the '90s. At that time, Charlie encouraged Bill to branch out on his own and what do you know, he just as well did it, and he's arguably the best in the biz.
His mobile bottling truck doesn't look like more than a semi-truck from the outside, but on the inside is state of the art bottling machinery. Most small to medium-sized wineries, like us, choose to use mobile bottling as it's more cost effective than investing in a $50,000 bottling line that only gets used a few times per year. Instead, we call in the expert who does this every day. He and his truck are an invaluable part of the final process before wines get introduced into the world.
In addition, Bill uses a cross-flow filtration system for filtering wine before bottling. Yeasts that escape the filtering or fining process, for example, can result in refermentation in the bottle and can alter the flavor. His equipment is the best for filtering out all the leftover junk and leaves nothing but the purest juice. You can actually see and taste the difference between the wine before and after cross-flow filtration, the latter being less murky and much softer on your pallet.
His truck has a bottom-feed volumetric filler, designed to minimize splashing as the wine is transported into bottles. After the bottles are vacuum-sparged, wine pumped from tanks into the filler is measured into the bottles, and then automatically leveled to a consistent volume. Then bottles are sealed with a cork and pushed off the line and placed in boxes. From there the wines are palletized, 56 cases per pallet to be exact, and sent to Vintners Logistics until they are ready to be released.
This week we are bottling the 2017 vintage red wines for Fidelitas, roughly 7500 cases or 90,000 bottles. These wines will be released in 2020.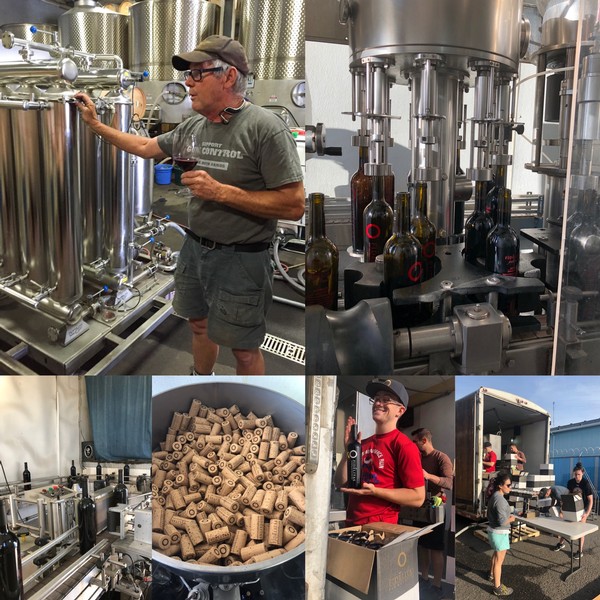 Honorable mention to our team of bottlers who put loads of manual labor on bottling day. Thank you for waking up with the sun and lasting through the long, hot, hours in the truck.
Ideas and facts for this post came from https://www.goodfruit.com/bottling-on-wheels/. Thank you for the great publication.