July 10, 2019 |
Will Hoppes
For the team at Fidelitas, July and August are the calm before the storm. At the winery we have bottling, racking, and barrel-sample tasting, but nothing compared to the long and now looming days of harvest. In the tasting rooms we have a few parties to throw and summer traffic brought upon by the warmer weather, but still relatively mellow compared to Fall club release. In anticipation my dad and I have been gradually going through and popping open some of these upcoming releases and comparing notes with other winemakers to see how things are progressing and have been pleasantly surprised with the balance and age-worthiness of these wines coming off the extremely hot '14 and '15 vintages.
Optu & Magna members make sure to make your Preview Tasting reservations so you get the chance to taste all of these before they're gone -- I'll see you there!


Note, the "Club" flag indicates which wines we expect to be club exclusive releases

2016 The Canyons Vineyard Malbec
Late July Release | 96 cases | $50
Good news! You won't have to wait til the fall to get some killer Malbec. Some not so good news, is that we only made 4 barrels worth so it won't be in the tasting room long. Compared to our "Red Mountain" and "Quintessence" releases, the Canyons reminds me most of the high-elevation Argentenian Malbecs that I've worked with which aren't as fruit forward as Washington and have more pronounced spicy and sweeter-pyrazine roasted pepper characteristics. All 96 cases are sourced from a single block on the edge of the Canyon that runs through the middle of the vineyard - we bottled this micro-climate to share with you. This is the second-edition, we made an initial lot of 96 cases in 2014.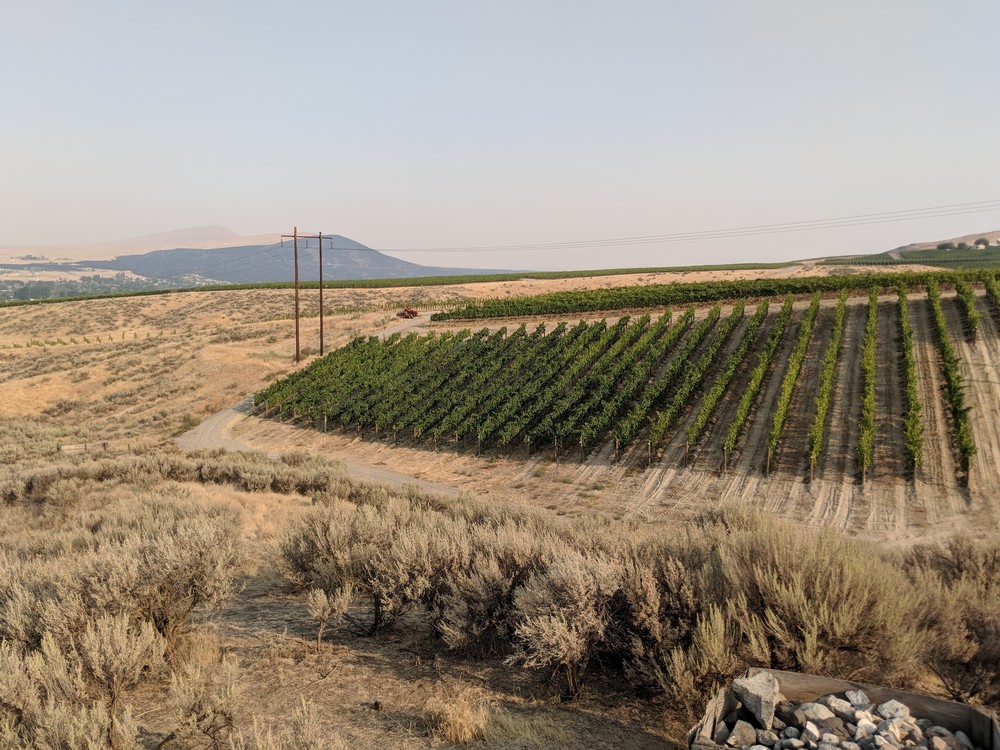 The Canyons Vineyard, Block 11 Malbec - Harvest 2018
2018 Quintessence Sauvignon Blanc
September | 88 cases | $50
This is our third edition of Quintessence Sauvignon Blanc. It's no surprise that Sauv Blanc excels in the same growing regions around the world as Cabernet Sauvignon. We decided to add one to the lineup in 2016 and model it after other world-class Cabernet houses which took their palates and winemaking techniques from Cabernet and apply them to making the best single varietal Sauv Blanc possible. Since 2016 we've used the Vicard Ovonum barrels which because of their unique shape gives better lees mixing and adds specific texture to the wine that we love. So much so that we decided to leave the juice in barrel all Summer turning it into a September instead of April release. For our SB lovers out there thanks for your patience! Some good news, we've doubled the production this year (we bought another egg) and we promise the wait will be worth it.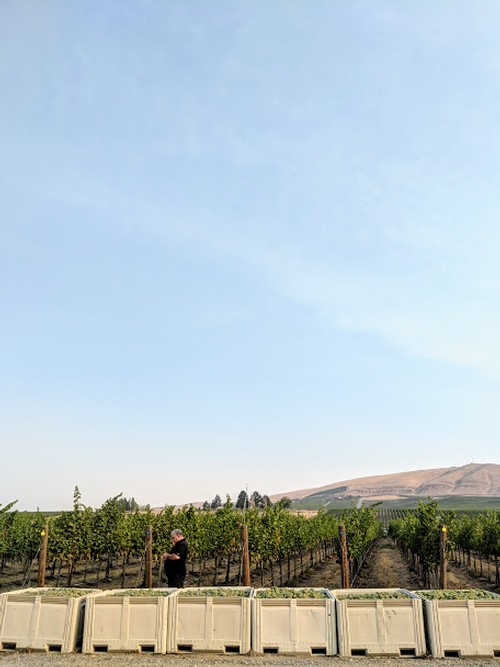 Charlie with his freshly picked bins of 2018 Quintessence Sauv Blanc
2016 Estate Vineyard Cabernet
September | 232 cases | $80
Winemaking and grapegrowing can be the ultimate test of patience. A wise winemaker that I used to work for who's family had been in the wine business for 100+ years, used to think in matters of decades and generations vs. quarters and vintages. There's something about being at the mercy of mother nature year after year, and having a product that you pour your heart and soul into that people may not end up enjoying for another 10+ years down the line that gives you a whole other level of patience. As a young winemaker I try to keep this same mentality when looking at our Estate. For those of you keeping track at home, we planted in 2008, made our first Estate Cab bottling in 2012. Each vintage since then we to try to keep our heads down and make the best wine possible, and each year when we go through and taste through the barrel samples our patience is rewarded as these young vines mature and create wines with more depth and complexity than the year prior. For the 2016 vintage we've used our same blend of Clones 2 and Clone 6 from the 2008 planting with 100% of the different lots fermented in oak vessels, another signature of the Estate Cab: 50% 2 Ton Open Top Oak Tank, 40% 500L Roller Barrel, and 10% 500L Upright Barrel. The combination of the growing site, the specific clones we've selected, and oak fermentation techniques give the Estate Cab a rich and silky tannin structure that sets it apart from the rest of our lineup.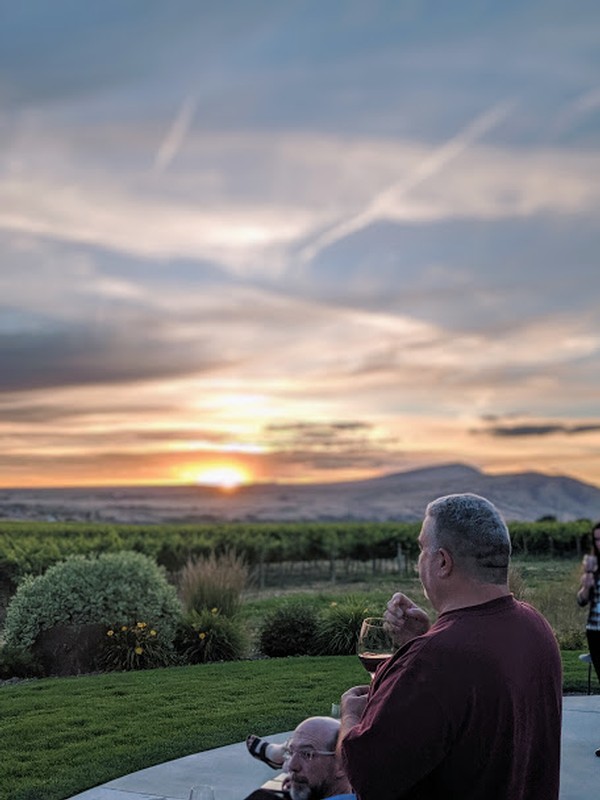 Charlie overlooking the Estate at the 2019 Red Mountain Cab Summit. Red Mountain sunsets seem to last forever because there's nothing West but the Yakima Valley to block the sun and is an important factor to why we consistently get vintages with the most sunlight and heat compared to other growing areas in WA.
2016 Red Mountain Cabernet
September | 626 cases | $55
We've produced a Clone 8 (dubbed the Washington clone, chances are if you have a "Columbia Valley Cab" you're drinking Clone 8) dominant Red Mountain Cabernet since 2010 with the same vision in mind, take those famous "traditional Red Mountain Cabernet characteristics" and put them in a bottle. It's hard to explain exactly what we mean by this but I think we did a mighty fine job in those original 2010 tasting notes: "Fidelitas releases the 2010 Red Mountain Cabernet Sauvignon as it's first varietal Red Mountain Cabernet using a blend of top vineyards from Red Mountain. The nose offers rich aromas of dark cherry, black currant, vanilla and a dusty herbal quality, rising from a deep hued ruby tone. The lively palate extends additional notes of black raspberry, clove, black licorice and a very subtle gamey quality, all settled within present yet balanced tannins and a lengthy finish." We now a few site specific cabernets with their own unique characteristics like Ciel du Cheval or Quintessence, but with this wine we're taking different vineyards and qualities of different barrels that we like and in a sense making a blend of cabernets. I think this the perfect bottle to share with friends to introduce them to Red Mountain because it 100% Cab, which the AVA has become most known for, is delicious no matter how long you decide to cellar it, and has a definite sense of place.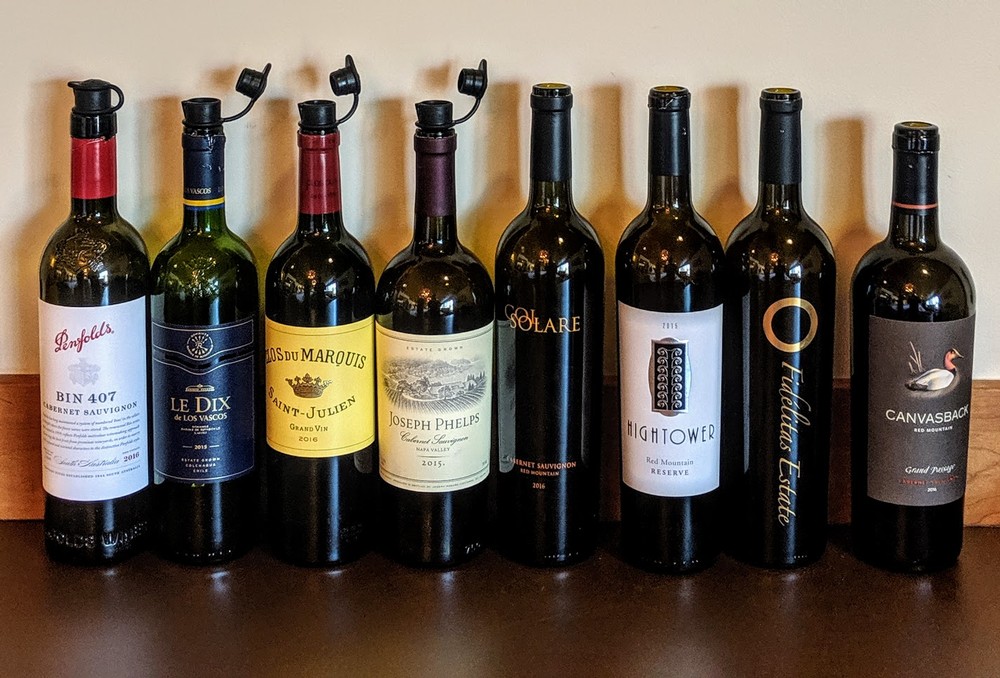 "Red Mountain vs. the World" tasting at RM Cab Summit, 2019 comparing Red Mountain to other world-class Cabernet growing regions.
2016 Montis Red Wine
September | 336 cases | $50
Montis, Latin for mountain, is an exciting new product named for the Mountain that we call home and the source of a bunch of different growing partners for this bottling. In 2016 with the warm Spring and heavy fruit set, we had more high-quality fruit come into the winery than expected. We've listened in the tasting room for years now and realized that we have tons of members who like blends best and wanted to share a club-exclusive version with y'all. Plus, our winemaking team saw a creative opportunity to create a blend without varietal or vineyard limitations to go along with all of the different single varietal, single vineyard bottlings that we've become known for. Here's what we came up with:
Vineyard breakdown: 53% Quintessence Vineyard, 18% Ciel du Cheval Vineyard, 14% Red Mountain Vineyard, 8% Red Heaven Vineyard, 3% Kiona Vineyard, 2% Shaw Vineyard, 2% Blackwood Canyon Vineyard.
Varietal breakdown: 52% Cabernet Sauvignon, 42% Merlot, 6% Malbec.
2016 Old Vines Merlot
September | 142 cases | $60
Our Old Vines Merlot was first dreamt up in 2015 when we were able to get access to the Kiona Estate 1975 Merlot planting. In 2016 we've ran back the same blend of original Merlot plantings at Kiona and Ciel du Cheval, the founding partners of Red Mountain. To me, this wine is the most Old World in style and is much less fruit driven than our Red Mountain Merlot for example. Instead of bright red strawberry and bing cherry we get dried fig, rose, dark chocolate, and scorched earth balanced with a lovely front-palate acidity. Charlie has known since the early 90's that Washington was a world-class Merlot growing region and we believe this wine would stand up to some of the famous right-bank Bordeaux houses (someone want to arrange this tasting for us? We'll bring the Old Vines). This wine was a fan favorite of the 2018 July Preview Tasting, so make sure to order some ahead of its release to get a bottle of Red Mountain history.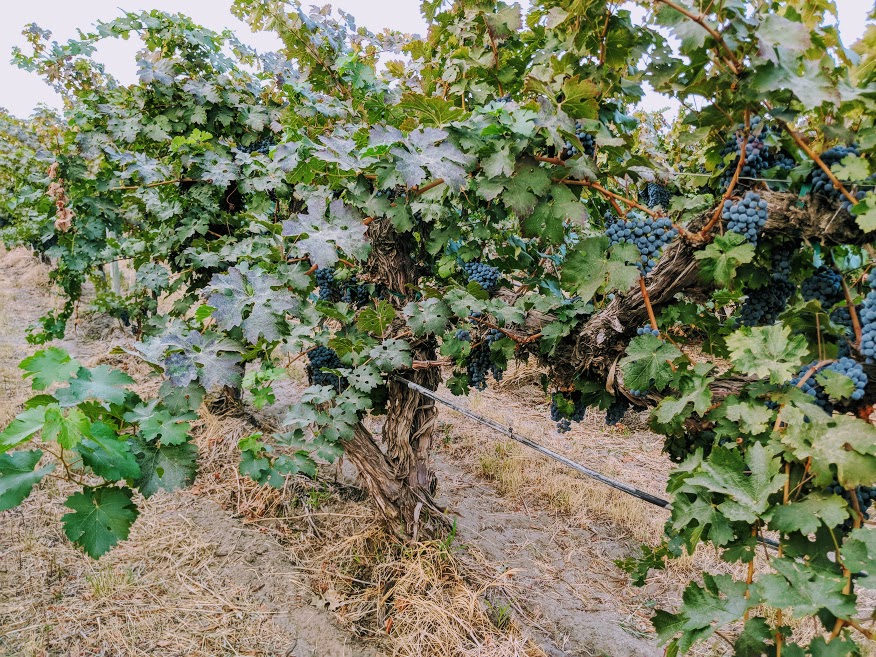 Kiona '75 Merlot, Harvest 2018
November is Ciel du Cheval Month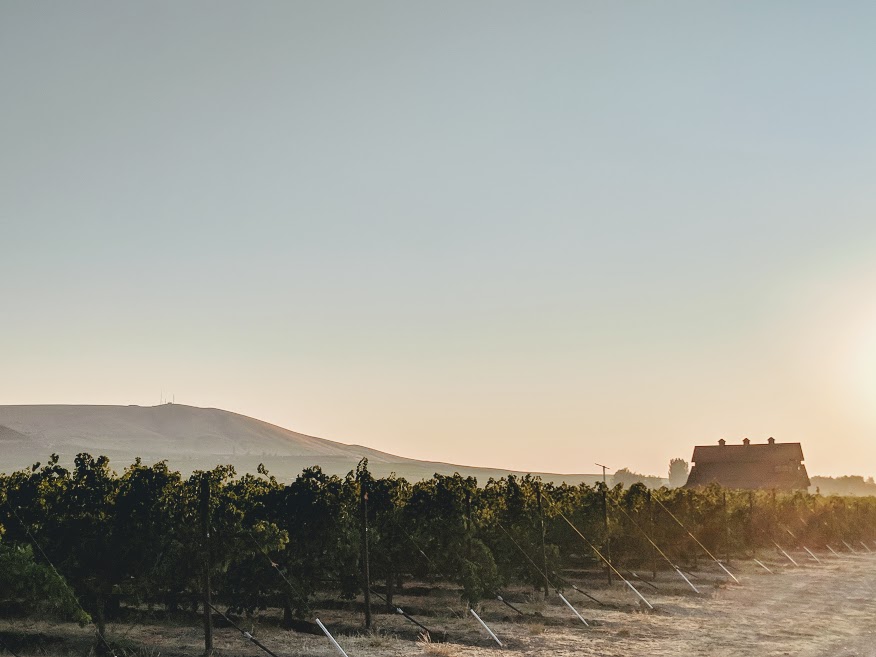 The famous Ciel du Cheval Barn, Harvest 2018
Ciel du Cheval is one of the most well-known vineyards in the state of Washington and has been a staple of our lineup since the 2006 Ciel du Cheval Cab which was our first 100% single vineyard Cab from Red Mountain. Since 2006, as our relationship with Jim Holmes developed and we were able to get access to more fruit, and in 2012 Ciel du Cheval became a staple of our lineup with us releasing 5 different vineyard designate bottlings. It's amazing that a single vineyard is able to produce such exceptional fruit quality that these varietlas which are usually blending components are able to be complext enought to stand on their own. When we first introduced the Cab in 2006 we were sourcing from all over the Columbia Valley and the Ciel du Cheval bottling, which was our only Red Mountain wine at the time, stuck out as the most concentrated and tannic one in the bunch. Our love for wines like this lead us into sourcing more Red Mountain fruit each vintage to where now the role of Ciel du Cheval has shifted a little. In a sense it's now the elder statesmen of our lineup showing more subtle old-vine complexity and elegance where you have to go searching for these nuances especially when compared to vineyards like Quintessence, Fidelitas Estate, and Blackwood which are anything but subtle - we've had to adjust our winemaking techniques and barrel selectionsa accordingly to accentuate these "CDC" characteristics. Keep that in mind when tasting through the gamut of Ciel du Cheval wines at the Preview Tastings and see if you can pick out those similarities.
More info on Ciel du Cheval:
2016 Ciel du Cheval Cabernet
November | 384 cases | $75
100% Cabernet Sauvignon
Aging: 75% New French Oak
Oak Fermentation: 32% 500L Roller Barrel, 18% 500L Upright Barrel
2016 Ciel du Cheval Red Wine
November | 290 cases | $65
50% Merlot, 33% Cabernet Sauvignon, 9% Petit Verdot, 8% Cabernet Franc
Aging: 67% New French Oak, 8% New American Oak
Fermentation: 8% 500L Roller Barrel
2016 Ciel du Cheval Merlot
November | 143 cases | $60
100% Merlot
Aging: 50% New French Oak, 17% New American Oak
Fermentation: 17% 500L Roller Barrel
2016 Ciel du Cheval Cabernet Franc
November | 140 cases | $60
100% Cabernet Franc
Aging: 66% New French Oak
2016 Ciel du Cheval Petit Verdot
November | 96 cases | $55
100% Petit Verdot
Aging: 50% New French Oak, 25% New American Oak
Fermentation: 50% 500L Roller Barrel, 25% 500L Upright Barrel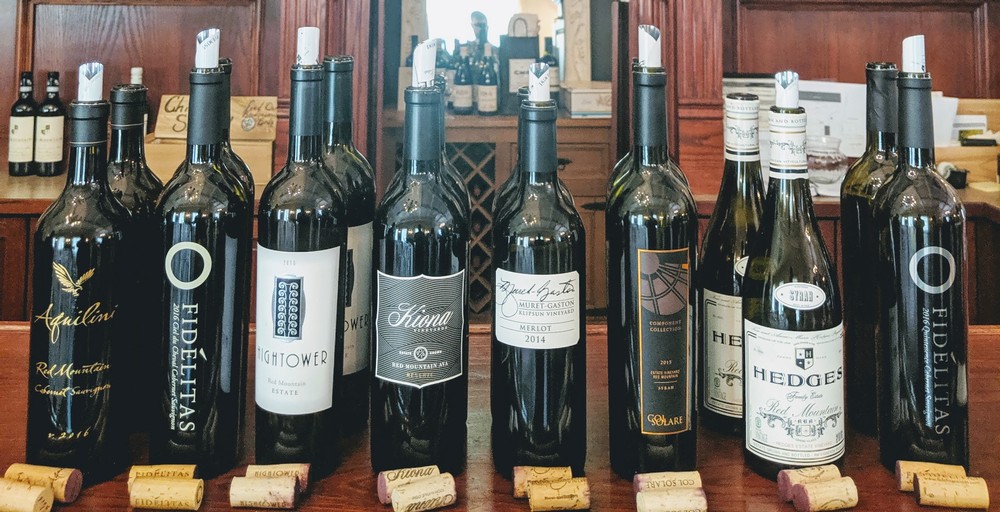 Featuring our 2016 CDC Cab vs. some of our neighbors, Red Mountain Cab Summit 2019
2018 Red Mountain Optu White
November | 350 cases | $35
We've yet to put together the final blend for our 2018 Optu White but we're extremely pleased with how the barrel samples are progressing. If the 2018 Red Mountain Semillon is any indication than it's going to be an excellent vintage for whties. We can tell you that it'll be the classic ~60/40 Sauvignon Blanc/Semillon Bordeaux Blanc style blend and will be released just in time for Holiday celebrations.