December 29, 2015 |
Charlie Hoppes
Dear Friends of Fidelitas,
We had some great milestones this year, planting in our estate vineyard and releasing an estate wine. It's truly been a dream come true. Coming in the next year we have some amazing wines for you coming from our favorite vineyards on Red Mountain.
This year was the release of our first ever Estate Vineyard wine from our initial 3 acre planting from 2009: our 2012 Estate Vineyard Cabernet Sauvignon. Starting my career in 1988, I could hardly imagine not only having a family-owned Vineyard on Red Mountain, but also being fortunate enough to produce a wine from those vines. This has been a long time coming…perhaps the biggest milestone in my career to date. This wine is a representation of the premium Estate wine you can expect from Fidelitas. From hand selecting the perfect clones and using only the very best barrels, we made sure to pull out all the stops to create this beautiful wine. With only 50 cases remaining, you'll want to be sure that you have this special bottle in your cellar before it's gone.
The process to get water for irrigation to Red Mountain has been in the works for at least twenty years. This past spring, water became available through KID, and we were able to go forward with planting the remainder of our Estate Vineyard. My dream of owning an Estate Vineyard on Red Mountain is finally complete. We've been anxiously awaiting this since we initially purchased our home on Red Mountain back in 2007. Dick Boushey and his skilled crew worked hard to prepare the estate for the arrival of water. Dick and I obsessed over which Bordeaux varietals would excel in the Fidelitas Estate Vineyard and hand selected a variety of grapes and clones which we know and love, along with others that we are excited to experiment with in the years to come. In total we have about twelve acres in vine just outside our back door on Red Mountain. Our first release of this new planting should come from the 2017 vintage and we can't wait to share these premium Estate wines with you.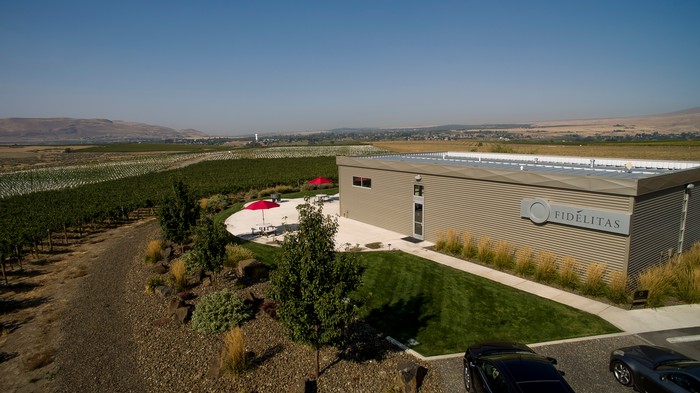 Looking forward, we couldn't be more excited about the 2013 wines to be released in the year ahead. Just this last week I tasted through each one of the wines which we will release in 2016 and I am very excited about how they are coming along. You'll be seeing more wines from some of our favorite vineyards such as Quintessence and Ciel du Cheval and new to the line up: The Canyons Vineyard. I think the upcoming 2013 vintage is as good, if not better than the 2012 vintage. Each year that we work with these vineyards on Red Mountain we gain more knowledge about them and are able improve our winemaking techniques. I believe the best could be yet to come from Fidelitas.
Fidelitas exists as a winery because of our faithful customers. To each and every one of you, thank you for your continued support. Many of you have been around since the start of our wine club, others have joined in the more recent years or months, and the loyalty from each one of you is invaluable. We look forward to sharing many more milestones with you. Thank you and happy New Year.
Cheers!
Charlie Hoppes, Fidelitas Owner + Winemaker