October 3, 2018 |
Jess Zander
I got a text from Charlie at 6:15 this morning with picutres of him doing pump overs. At that hour, I'm still dragging and dealing with the kids. Charlie's picture, however, showed him smiling, looking at the soon to be wine, while it's still dark outside. Is he a little bit insane? Maybe. But I'm starting to realize that is what harvest is all about.
Here are some memories of harvest over the years from both Charlie and his wife, Terri. Raising 4 kids and being a small business owner is no joke. Throw in some 14 hour work days, 6 days per week, and that's just fun for the whole family.
What were some of your first impressions those first few harvests, starting in 1988?
CHARLIE: It's always been intense. My first few vintages were crazy, super busy at a big place like Langguth. I was thrown in to the mix quickly, running the crush pad before I really knew what I was doing. That's Mike Januik's fault…it was really overwhelming and exhausting. 12-14 hours per day with just Sundays off. After the first few years, I was much more comfortable. Especially being at Ste. Michelle, where the staff works like a machine to make it all happen.
Harvest this year seems like a constant juggling act. I'm thinking about 10 days out while Mitch is trying to figure out where we are putting the grapes that are coming in tomorrow. Hillary is constantly focused on the day to day…getting each wine through fermentation. On any given day, we're doing 70 lots at a time. Pump overs started at 6 today, and at 9:30 he's still going. We'll start this all again at about 2:30 this afternoon.
I'm looking at the new guys and they really don't know what they are getting in to. Not only is in physically exhausting, but mentally. But, they all come out with a greater appreciation. And I think it gets in to their blood. Some of the guys are turning around to do southern hemisphere harvest too.
TERRI: Was it intense? Yes! You put your life on hold during harvest. Not only is he gone physically but also mentally, but yet he was always there if we needed him to be. We felt like he was here and were his priority. Intensity for me was the worry of his long-distance commutes throughout different harvests - from Walla Walla, Mattawa, Wenatchee, etc. Once I heard him come through the door my prayers were answered - driving with so much fatigue isn't the best!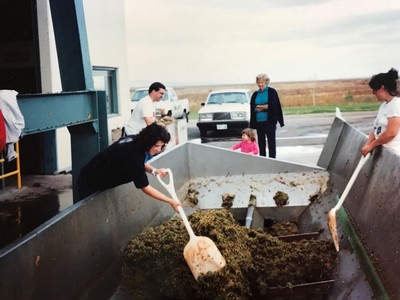 Langguth/Saddle Mountain in 1988
Did you ever think that Charlie was insane for making a career shift from Boeing?
TERRI: Never - even if fall can be bittersweet each year. My wish to experience a fall foliage trip in New England with Charlie someday will just have to be a trip to the vineyards!
What are some traditions at home or in the cellar surrounding harvest?
CHARLIE: I always work on my birthday but we always managed to have a party when I came home at night. My birthday and harvest have always been closely related for me.
At the cellar, we're playing Shakira every morning. This started for me at Three Rivers in 2000 with Holly Turner after she had worked harvest in Mendoza. We're able to do it with Spotify now…which we definitely weren't doing in 2000. Nowadays, the cellar crew is requesting it to start the day.
I also try to help the crew out during harvest. Sometimes we'll do a big bbq for lunch or even go out to breakfast, just to break the monotony. Many years, we'll also host a lunch for the vineyard crew once the grapes are off the vines.
TERRI: I always remember when our family was young that Halloween was a big deal because Dad was finally home! Harvest was ending, and we would be normal again.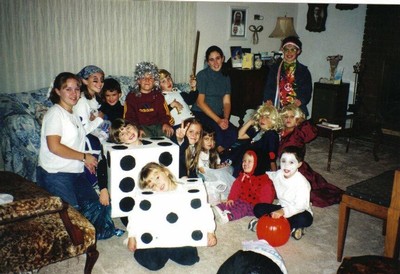 Are there any times Charlie fell asleep at the dinner table after working in the cellar all day? Any other dirt on him?
TERRI: No - no funny story to share about falling asleep. He was just always trying to stay awake once he gets home! And then always waking in middle of the night for a while thinking. He is never able to really rest until end of harvest.
Is there anything you both like to do as you finish up the harvest season?
TERRI: It's hard to unwind at the end of harvest, especially when you are working many, many weeks with no days off. We just enjoy the time to rest and catch our breath! We're always looking forward to holidays with family and can't wait for a new grandbaby coming into our world in a few weeks!
CHARLIE: Just take the time to slow down. You know, in some ways Terri is the one who has really put in all the work. She takes over and raises the family, which is not easy, during fall especially.
This year, we are just really looking forward to meeting our new grandbaby.