March 22, 2017 |
Jess Zander
Fidelitas is all in on Red Mountain. We are dedicated to producing the highest quality, Bordeaux-styled wines from the smallest growing region in Washington state.
Why the specific focus? While we know that exceptional wines can come from every region in Washington, we also know that there are certain geographical features about Red Mountain that make it truly one of the best growing regions in the world: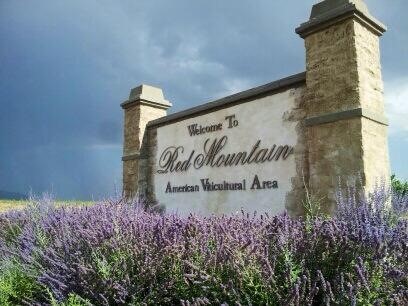 A SOUTHWESTERN FACING SLOPE
The southwest slope of the Red Mountain AVA provides the vineyards in the region with a directional aspect to the sun that is ideal for prolonged sunlight exposure and warmth. These highly desirable conditions allow for a ripeness in tannins that is recognized as a primary characteristic of Red Mountain fruit.
WARM SUMMERS AND WINTERS
Red Mountain experiences more growing degree days than any other region in the state. The high latitude (N 46*) and topography contribute temperature swings experienced during the growing season, with daytime temperatures averaging 90 °F and night time temperatures dropping below 50 °F. These heat accumulation days create ideal temperatures for highly marketable grapes, exhibiting ripeness and concentration. The cooler evenings help to retain acidity levels which allows for the exceptional balance and structure found in Red Mountain grapes, and the wines crafted from them.
LOW RAINFALL
Red Mountain gathers less than 8 inches of rain per year, requiring irrigation in the vineyards. The use of drip irrigation provides ideal grape growing conditions through canopy management. Additionally, Red Mountain vines experience dramatically lower mold and mildew pressure compared to most other vineyard regions.
SMALLEST AVA IN WASHINGTON STATE
Red Mountain is the smallest recognized American Viticultural Area in Washington State, with 4040 acres. Of that, about 2700 acres have been determined plantable, and only 1700 is currently under vine. Red Mountain is defined by natural borders, with the ridge of the mountain to the north and the Yakima River to the west. Red Mountain resembles a growing region more like the Old World, where one can see each block of each vineyard from a single vantage point.
AVA SPECIFIC SOILS
The predominate soils of Red Mountain are not found anywhere else in the state. Wind blown Loess (Warden, Hezel, and Scooteney) were brought in by pre-historic floods. The high alkalinity and calcium carbonate content of the soil, along with its granular consistency, allows for each vine to form a well-established root system. In soils with this composition, root systems are able to reach deep to obtain the necessary nutrients and moisture.
CONSISTENT WINDS
The prevailing winds come out of the Southwest and are notable for their frequency and velocity. The regular gusts of warm air flow through the AVA's vineyards during the growing season, keeping the grape clusters small and concentrating the flavors of the fruit - which contributes to their richness and intensity.