May 11, 2018 |
Michelle Marsh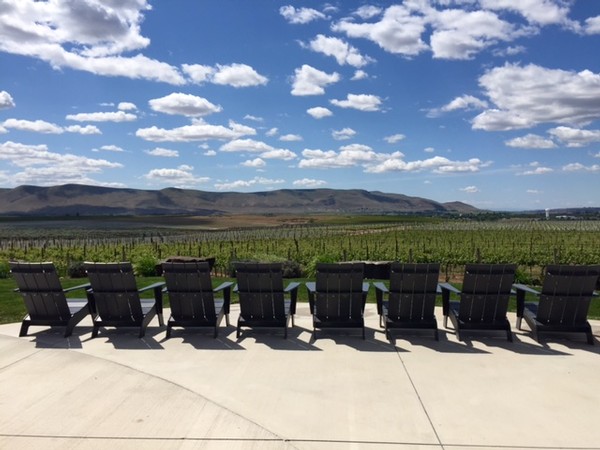 Whether crossing the country, the mountains, or planning a stay-cation right in your home town here's your no thought required itinerary for the perfect weekend on Red Mountain!
FRIDAY
Arrive and check into The Lodge at Columbia Point. Use code "CORK" for a special rate. Check in begins at 4pm. Check out their daily happy hour featuring Washington wineries from 5-6:30pm.
Head to dinner at Fiction Restaurant at Bookwalter. You can often catch live music on the patio!
If you're feeling up for a night cap stop in at Tap + Barrel to pick and choose what you want to sip on from their WineEmotion. They have an amazing selection of wines from Washington, Oregon, California, and beyond. Plus beer, cider, and food available too!
Otherwise, head back to the hotel and get a good night sleep in those comfy beds…you'll be getting an early start on wine tasting!
SATURDAY
Enjoy the sunrise while drinking coffee on your hotel room balcony and be sure to fill up at the complimentary breakfast bar. Don't skimp on the carbs, you've got a full day of wine tasting on the slopes of Red Mountain!
11:00am start your day with a tour and tasting at Col Solare. Col Solare is a partnership between two influential wine producers who are recognized leaders in their respective regions: Tuscany's Marchesi Antinori and Washington State's Chateau Ste. Michelle. They are my favorite place to start because they give a great lay of the land during their tour and have a view overlooking Red Mountain vineyards.
12:15pm Come see us at Fidelitas! Grab a spot on the patio and relax while taking in the Fidelitas Estate Vineyard. If you let us know ahead of time we can even plan to have a cheese plate ready for you upon arrival. Feel free to do a self-guided tour through the Fidelitas Estate Vineyard (just be courteous of the vines) and don't forget to check out the magnificent Library!
1:30pm Visit Red Mountain originals at Kiona. The William's family planted the first vines on Red Mountain in 1975 and their family run winery has one of the best stories around, not to mention great wines from their Estate. My personal favorite is their Old Block Cabernet Sauvignon!
2:45pm Just down the road you will hit Frichette. Owners Greg and Shae are living their dream on Red Mountain and their energy is contagious. Pair that with a great glass of wine and you are set!
4:00pm Cross on over to Anelare. Here is truly one of my favorite experiences in the area! Anelare sits just outside of the AVA borders but has a divine view looking back at Red Mountain. Anelare sources grapes from some of our favorite vineyards including Ciel du Cheval and Boushey and makes an outstanding Syrah. Order up a flatbread and enjoy the view of Red Mountain!
5:15pm Find your way back to Sunset Road to go to Cooper for one last stop. He's one of the only wineries open until 6pm and will be sure to have a handful of Estate grown wines open for you to taste and a fun and memorable experience.
After all this tasting you are definitely ready for dinner! Head back to the hotel, freshen up, and walk next door for some great eats. Don't forget to take your wine out of the car where it will get hot!
7:30pm Dinner at Budd's Broiler. Budd's is a premier steakhouse owned by Anthony's restaurants. Their patio sits alongside the Columbia River and is perfect for catching the sunset. I always order the 'Steak Oscar' which is Wagyu top sirloin grilled to your liking and crowned with Dungeness crab, asparagus and bearnaise. I should also mention Budd's wine list is one of the best in the area! Go ahead, order a glass of bubbles with your appetizers. That's what Charlie would do!
Walk off your meal with a stroll on the pathway at Columbia Point. This serenity is just what the doctor ordered.
SUNDAY
Take advantage of those hotel room black out curtains and…SLEEP IN! Not into catching extra Z's? Run or walk the path along the Columbia River.
Walk over to Anthony's for Brunch from 9am-2pm on Sundays. Upon arrival you will be seated with a complimentary fresh fruit plate, warm blueberry coffee cake (to die for), and a glass of bubbles or a mimosa. And that's all before picking out what you'll have for breakfast! I recently had the Northwest Dungeness Crab Cake Bowl and was in heaven.
By this point you'll probably be ready to hit the road. At least you'll have wine as a memento and reminder of your weekend away on Red Mountain. Cheers!
There's tons more to do in Tri-Cities and surrounding wine regions. For more reccomendations email me!
PRO-TIP: It is always best to book tasting reservations ahead of time. Appointments can be made by visiting a wineries website or giving them a call. You will most certainly get the most bang for your buck if you let wineries know you are headed their way so that they can prepare ahead of time for your visit. I usually plan for about an hour at each winery, or longer if they have a great patio to relax on or if you plan on doing a food and wine pairing. It's always best to ask the winery how long you should plan for. The wineries listed in this post are no more than 5 minutes drive apart from each other.
Note this is not an inclusive list of all Red Mountain wineries. If you have time, do stop and visit more of our neighbors on Red Mountain! We are blessed to be among so many great wineries.