January 31, 2017 |
Jess Zander
This is a post from last year (add a year to the marriage ticker). However, as we come in to the season of love and fidelity, it seems like a wonderful time to share the story of Fidelitas once again. May your Februarys be full of someone who is faithful, loyal, and true, tasty wines, and a few paper hearts.
---
FAITHFUL, LOYAL, TRUE.
Where do these words come from?
Translated from Latin, Fidelitas means faithful, loyal, and true. Think about the word fidelity and it starts to make sense. Ponder our logo, realize the circle is not an O, it's a ring or circle of fidelity, and it makes a bit more sense. Know Charlie Hoppes and it all comes together.
Charlie and his wife, Terri, have been married for 33 years. They started their family as Charlie started his winemaking career. When they launched their own family winery in 2000, Charlie looked to Terri's family for the name, settling on Fidelis (extended to Fidelitas). Like his winemaking style, Charlie's approach to life is simple and pure. Honor those who are important to you, respect everyone, and don't sweat the small stuff. Knowing him is knowing what it is to be faithful, loyal, and true.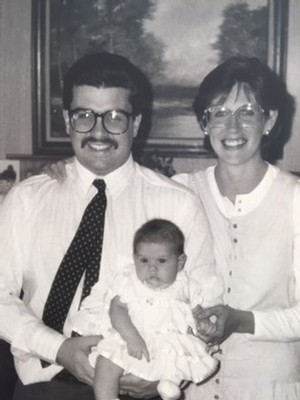 Charlie, Terri, and their first daughter, Emily. Photo taken within the year Charlie first discovered Red Mountain fruit.
I don't say all of these nice thing about my boss because my annual review is coming up, but because these 3 words have truly permeated all aspects of our business. We are faithful to grape varieties from the Bordeaux region of France (with a particular soft spot for Cabernet Sauvignon), loyal to modern craft winemaking techniques, and true to Red Mountain's unique terroir. My team here aims to show everyone how they are faithful, loyal, and true through the relationships we have with visitors, members, and one another.
Each February, we celebrate the region we call home: Red Mountain. We host special tastings of our Red Mountain wines, and offer our customers the chance to stock up on some truly special releases. We hope that you'll join us in the tasting rooms, or bring some Red Mountain in to your home so you can celebrate being faithful, loyal, and true along with us.