February 12, 2020 |
Therese Hering
There are many beautiful wines being made here in Washington state – the compilation of so many talented wine makers using fruit from various Washington AVA's. But in my opinion, the combination of Charlie Hoppes, our winemaker, and Red Mountain is a union that simply can't be beat. Here's why.
Charlie has been making wine in Washington state for over 33 years but his passion for Red Mountain all started in 1989, the very same day his first daughter was born. He was pouring wines at Kiona's Lemberger days for Langguth Winery. There he tasted his first Red Mountain Cabernet from Kiona – the structure, that intense fruit and distinctive minerality! It was extraordinary and that started his love affair with Red Mountain. In those early days there simply was not enough fruit grown on Red Mountain to start a winery sourced solely on that fruit. But that didn't stop Charlie from ultimately pursuing that dream. It took him a few years, but Fidelitas now sources ALL it's fruit from Red Mountain vineyard partners, and most notably, our Estate vineyard that yields more and more fruit for our lineup of wines.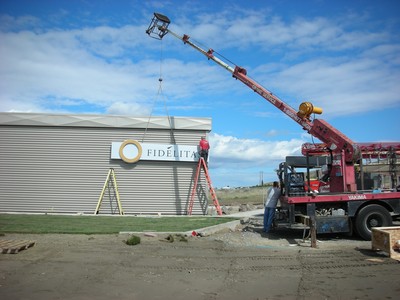 Today, Charlie takes his years of experience in the cellar and combines that with relationships he has built over these 33 years with people like Marshall Edwards (Quintessence Vineyard Manager), Dick Boushey (of Boushey Vineyards in Yakima and our Estate manager) and the Holmes family at iconic Ciel du Cheval Vineyard. All those relationships are key to sourcing the BEST fruit on Red Mountain, which Charlie usually designates block by block and sometimes row by row. Being a talented wine maker simply isn't enough to make impeccable wine – it takes extraordinary fruit and knowing exactly where that is on Red Mountain and having the handshake relationships to source it.
So that leads us to Red Mountain and what makes it a World Class AVA. Red Mountain is located NOT in Walla Walla, but about 15 miles west of Richland, WA. Spread the word, Red Mountain is ON THE WAY TO Walla Walla, not IN Walla Walla and deserves a detour off I-82!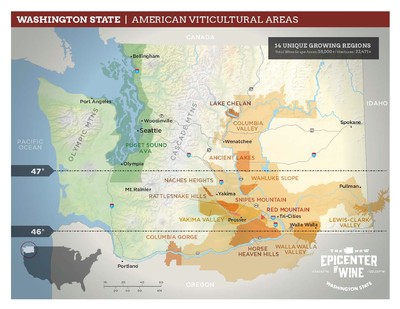 Want to visit tasting rooms actually in the vineyards? Google Maps to Fidelitas Red Mountain. You can thank me later. Red Mountain is getting worldwide attention for good reason. It produces killer fruit showing wines with great depth, structure and ageability. Here's why:
The Missoula Floods Created Red Mountain – these are cataclysmic floods that occurred at the end of the Ice Age. The repeated 400-foot torrents down the Clark Fork and Columbia River collected in eddies and valleys and dropped sediment. Depositing everything from large boulders to microscopic silt and everything in between. The deposits are deep, meaning low nutrients and well-drained soil. For vineyards, THIS IS THE PERFECT TERROIR. The vines grow very deep roots to collect nutrients and water. And a vine that struggles to survive, gives EVERYTHING to the fruit not the leaf structure or canopy.
Hot, Hot Hot! Eastern Washington is high desert and gets over 300 days of sun. But Red Mountain's heat accumulation is the highest in the state. Meaning consistently, fully ripe fruit year to year. Only 6"-8" of rainfall annually means the grower can control "starving" the vine with fine-tuned irrigation and that means the ability to achieve CONSISTENT quality from vintage to vintage.
Consistent Winds and Southwest Facing Slope – the prevailing winds come out of the SW and are notorious for their frequency and velocity. Red Mountain is at the end of the wind tunnel of the Yakima Valley that causes the wind to constantly blow and in very strong gusts. That creates an environment where the grape clusters stay quite small and have thicker skins to protect the seeds within. A savvy winemaker knows that will mean concentrated flavors of the fruit, richness and intensity. (Ok, now I'm dying for a glass. If you haven't pulled the cork on that bottle of Fidelitas yet, then you must be a beer drinker.)
The Best of Old World Meets New World – it's true. Red Mountain fruit exemplifies the New World ripeness of flavor from wine regions like California and Australia yet combines that with an Old-World acid and tannin structure like France and Italy. Who says you can't have it all?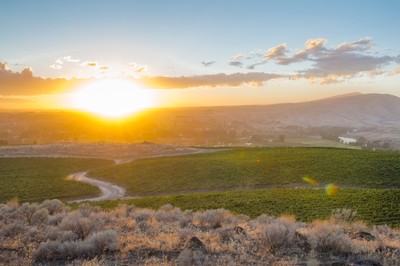 And that my friends is why Red Mountain is at the heart of Fidelitas. It just doesn't get any better than this. So, stop in at either of our tasting rooms in Woodinville or on Red Mountain, and we'll happily pour you some of the best wine in WA. Not in our wine club family yet? That's a shame because many of the wines being released this year are from one of the very best vintages for Fidelitas and only available to our club members. Come join us!