July 13, 2016 | Amy Graham
Baked Shrimp + 2010 Champoux Cabernet Sauvignon
I was poking around the library recently and found some 2010 Champoux Cabernet Sauvignon. I was extremely excited to try it as it is the only Champoux Cabernet (excluding Block One) that we have available for purchase. As I had guessed, it is absolutely delicious. I opened it last night and paired it with a rib steak and baked prawns. Let me tell you, it was amazing. The aromas of big dark fruit, mainly blackberry and currant, along with the dried herbs and even more dark fruit on the palate make this wine an absolute joy to drink. Pairing it with the steak and prawns was a no brainer! It was the perfect compliment to the wine and the nice summer evening. Visit the Woodinville tasting room to get a bottle while they last!
Amy's Baked Shrimp
1 pound 16-20 sized shrimp, peeled, deveined, tail on
4 Tablespoons butter
3 cloves garlic, minced
Kosher Salt
Freshly cracked Black Pepper
Preheat oven to 425. In a rimmed baking sheet, melt butter. Add garlic and prawns and toss to coat. Sprinkle with kosher salt and cracked black pepper. Bake for 5 minutes. Turn shrimp and add additional pepper if desired. Cook for 2-3 minutes until shrimp are just done. Serves 4 as entrée accompaniment.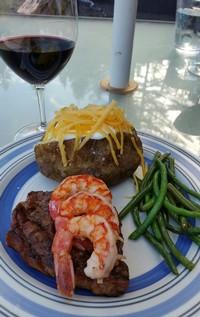 New Patio Seating and Hours!
We have opened our patio area outside! Come join us for a tasting or a glass and enjoy your visit as you sit and relax in the fresh air. We are excited to announce that effective August 1, Fidelitas in Woodinville will be open from 11am-5pm. We look forward to being able to accommodate our guests with these extended hours!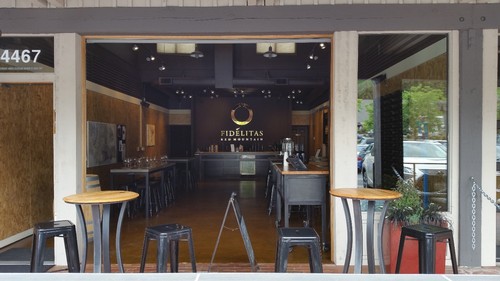 We look forward to your visit soon!