April 7, 2016 | Michelle Marsh
Putting Your Concierge to Work
As most of you know, my position with Fidelitas doesn't just consists of helping members with shipments and orders. I get to serve as the concierge for our members and am available for trip planning assistance, gift giving services, party planning and much more.
Think back to the first time you visited Fidelitas or placed your first order. I can remember so many exchanges where we met as strangers and left as friends, you probably even got a hug out of one of us. I'm lucky in the fact that I get to reconnect with members on a regular basis.
Recently I worked together with one Optu member from Western Washington to help plan her Wine Tasting trip through Prosser, Red Mountain, and the Tri-Cities with no shortage of stops at wineries and restaurants, and even helped her to find a local hotel with discounted winery rates.
An FLT member from New Mexico came over to see us at Taste Washington this past weekend, and it only took seconds for us to be able to recognize him by name. We met his family and by the end of their quick tasting at this massive event, his sister from Arizona became a Club Member too. We aren't kidding when we say 'join the Fidelitas family' because to us, Charlie, and many of our members, that's exactly what this membership is. It's a way to come together and enjoy the best things in life… wine and friendships.
Another wonderful member in Nebraska (Hi Jerry!) contacted me because he read about our wines and had decided he wanted to become a member. At that time, we didn't possess the permit to ship there, but Jerry and I worked together to muster up a few more fans in the area and get the permit. We're now planning a trip for Fidelitas to bring a tasting party to our Nebraska following!
Maybe your Fidelitas story is more traditional. Say you had our wines at a restaurant or maybe you stopped by one of our tasting rooms and enjoyed visiting with Team Fidelitas so much that you couldn't leave without signing up. We look forward to sending you a reminder of that experience each and every time we send out a club shipment and strive to get to know each and every member a little bit better upon each release. This is how we can tailor your Wine Club experience to be a perfect fit for you.
Have you been thinking about joining the club or always had a question on your mind regarding your membership? Maybe you just feel like chatting about soil types on Red Mountain (don't we all!) or about a wine tasting party you're throwing… give me a call or send me an email. I look forward to meeting you if I haven't had the chance to yet!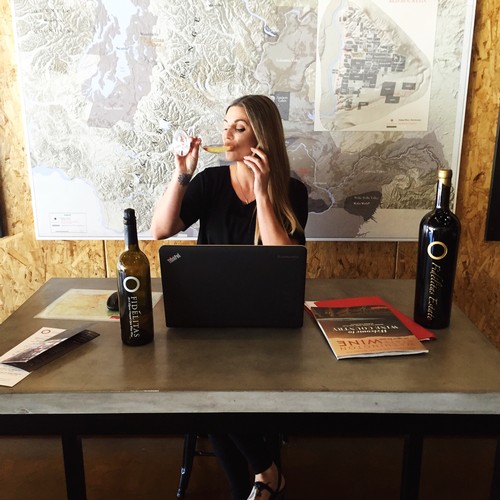 Just a typical day at the office... I wish!