April 9, 2014 | Jess Zander
05 Party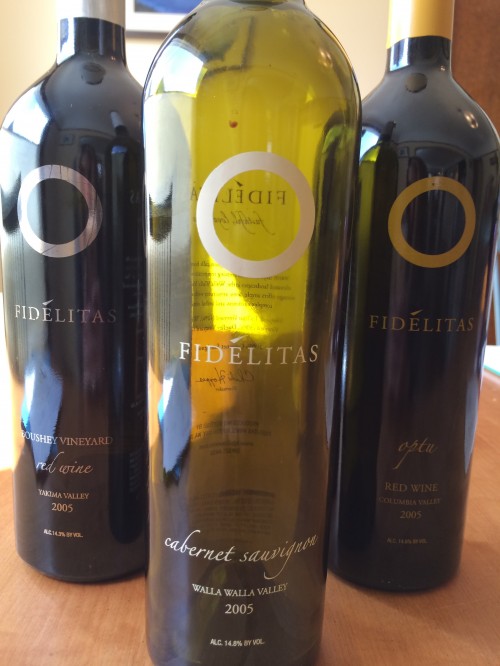 It all started when Alissa found out that I had a bottle of 2005 Fidelitas Walla Walla Cabernet Sauvignon in my cellar. Since that moment, months ago, I have received a text every couple of weeks to 'schedule our 05 party!'
So, we rounded up a few friends (Marilyn and Nedra from Red Mountain, Alissa and Dara from Woodinville) this past weekend to sample some wines from the 2005 vintage. From Fidelitas, we had 2005 Optu Red Wine, 2005 Boushey Red Wine, and 2005 Walla Walla Cabernet Sauvignon. There were a few other wines from other Washington wineries of note, but (and I'm only being slightly biased here) Fidelitas blew them out of the water so I won't name names.
We tried to rank them, but each of us had a different order of favorites, which means that they were all fabulous. The Walla Walla Cabernet (which we tried first: 100% Cab from LaTour, Windrow, and Dwelley), was deep, concentrated, and full. The fruit had really softened to make something round and beautiful. Boushey Red (53% Merlot, 40% Cabernet, 7% Cabernet Franc) truly just tasted like Boushey, which is such a great wine that I'm certainly not complaining! Still earthy with red fruit and soft tannins, yet beautiful structure. The Optu Red (55% Cabernet Sauvignon, 36% Merlot, 6% Cabernet Franc, 3% Malbec) was AMAZING in that you would never guess that it was a nearly 9 year old wine. Bright fruit, balanced acidity, present yet not overpowering tannins. Truly, had I tasted it blind, I would have thought it were a much younger wine.
These wines were special for me to revisit. The 2005s were the current releases back when I started in 2008. The big, heavy bottles, vineyards, and stories brought back some great memories for me. I guess that is probably the best part of pulling things from the cellar!