November 21, 2018 | Events, Food + Wine, Holidays, Red Mountain, Wine Club, Winemaking | Jess Zander
5 Things We Are Grateful For
1 – Our Members
Fidelitas fans made this year one to remember. We launched a brand-new way for our members to buy Fidelitas wines; allowing the Club to select from our newest releases and create their own, unique allocation. Through the loyalty and dedication of our Club, we have now (nearly!) sold out of every wine we released in 2018. These faithful, loyal, and true members push us to keep 'making our best wine yet' as we look for new ways to surprise and delight them in vintages to come.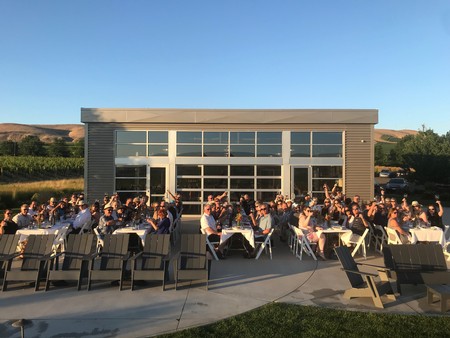 Magna Dinner, Red Mountain, July 2018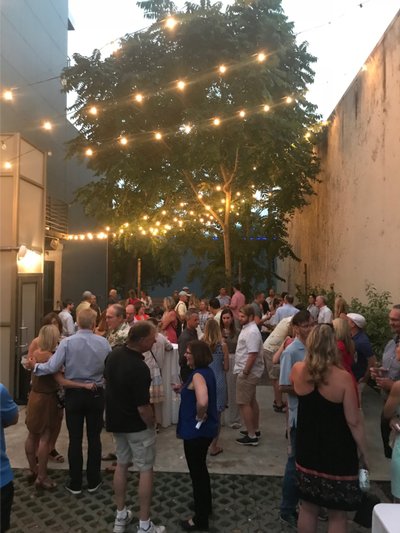 Summer in the City, Seattle, August 2018
2 – Charlie
Charlie is what makes our jobs easy. Obviously, he makes amazing wines, and that is the best part. But he's also just an amazing guy to work for and work with.
This year, Charlie was awarded 2018 Vintner of the Year by his peers at the Auction of Washington Wines. This recognition gave credit to the 30+ harvests he has committed to making wine in Washington. Charlie's effort and dedication, along with that of his peers, is what continues to advance the Washington wine industry.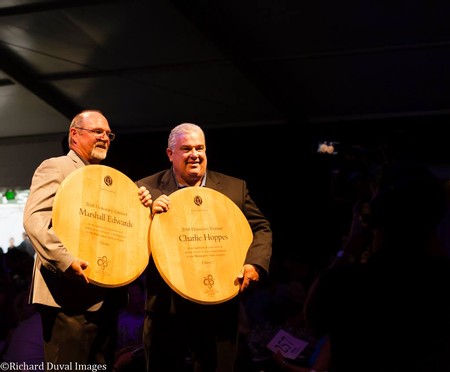 Charlie Hoppes, Honorary Vintner, and Marshall Edwards, Honorary Grower, at the Auction of Washington Wines, August 2018
Skye, Jess, Will, Charlie, and Michelle at the AWW Picnic and Barrel Auction, August 2018
3 – Red Mountain
We call this tiny AVA home. At just 4,040 acres, with nearly every plant-able acre now under vine, this is a really special place. Charlie often remarks that there are only a few growing regions in the world where you can stand in one spot and see the whole AVA, block by block. The unique terroir, devoted growers, and outstanding neighboring wineries, have established Red Mountain as one of the most premium wine producing regions in the world.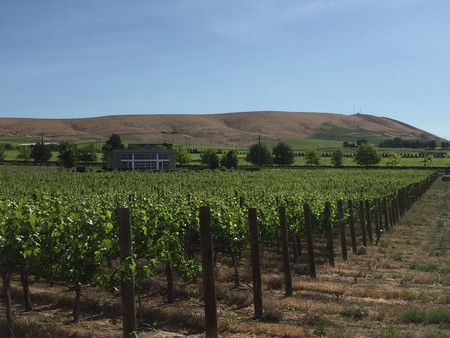 Fidelitas Estate Vineyard on Red Mountain, September 2018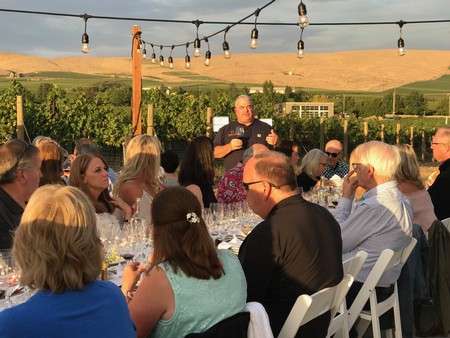 Estate Vineyard Dinner, September 2018
4 – Team Fidelitas
We'd be nowhere without our staff! On a very personal level, I am so grateful to have such a dedicated, positive, and all around great team representing Fidelitas every day. They tell our story and share the wines with our customers, sweep the floors, pack boxes, haul wine, make dinner reservations, throw parties, and SO MUCH MORE.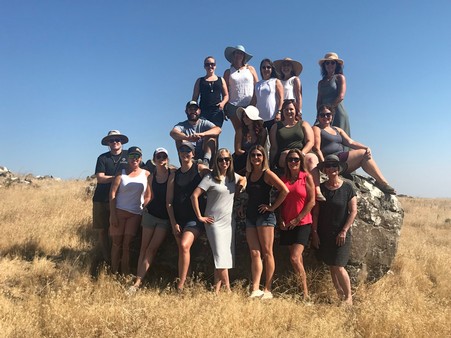 Team Fidelitas Staff Vineyard Tours, July 2018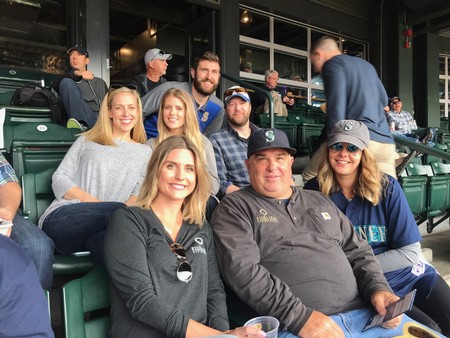 Team Fidelitas at the Mariners, June 2018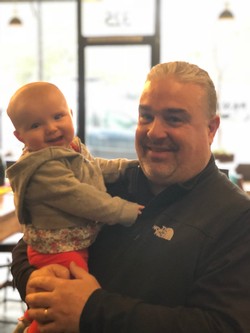 Team Fidelitas of the Future: Charlie and Brynn, January 2018
5 – Wine
Seems simple enough. As a winery, you make wine, you pour wine, you sell wine. But our wines were somehow extra special this year and I am thankful for that.
10 of the 19 wines we released in 2018 were sold exclusively to our members in Club allocations, meaning they never even made it into the tasting rooms. We had exceptional releases such as varietal Malbec from Quintessence Vineyard, intense Cabernet from Blackwood Canyon Vineyard, old vine Merlot from some of the oldest blocks on Red Mountain, found in Kiona and Ciel du Cheval Vineyards, and of course our own Fidelitas Estate Vineyard Cabernet Sauvignon.
Washington wine is growing. Red Mountain wine is growing. But, Charlie's longstanding relationships with growers allows us to select fruit from specific blocks to make exceptional wines for our members, and this is what sets Fidelitas' wines apart.

Fidelitas 2018 Releases, start to finish!