November 28, 2018 | Wine Club, Woodinville | Will Hoppes
Member tips for picking up in Woodinville
First off I'd like to apologize to our members who have their wine shipped or pick up at our Red Mountain tasting room - I promise I'm not forgetting about you and thank you for being loyal members! But as our Woodinville tasting room manager, I figured I'd speak to my strengths. Even if you aren't one of our members who picks up their wine in Woodinville there still should be plenty of good information in here.
Club-Only Weekends
Every time we release wines to our Optu members (i.e., February, April, September, and November) we are club-only in the Woodinville tasting room the following 2 weekends - both Saturday and Sunday. If we do have new releases to pour this is when we'll feature them in the tasting room. For example, in September we had a little bit of our 2015 Estate Cabernet still in stock after club allocations were processed and we poured it in the tasting rooms September 15-16 & 22-23 and ended up selling out.
Keep in mind, these weekends end up being some of our busiest of the year. Other options:

Come early! We open earlier than most tasting rooms in the area: 11am every day. Start your day at Fidelitas with some Optu White instead of mimosas.
Friday afternoons are a great time to pick-up as well. Leave work a little early to beat the weekend rush.
Pick up during the week - we're open 11-5 everyday of the week
Preview Tastings
If you haven't been to one of our Preview Tasting you need to check them out. There's one in January and one in July - available in Woodinville and on Red Mountain. Taste through the future releases and choose your club allocations as your tasting the wines. It's the best way to make sure you get exactly what you prefer for your allocations.
Preview Tasting is scheduled for January 13th in Wodinville at the Hollywood schoolhouse (a 2 minute walk from our tasting room) and January 13th on Red Mountain - keep an eye out early December for the email to make your time slot reservation
Plus, you may get the chance to meet our rockstar winemaker: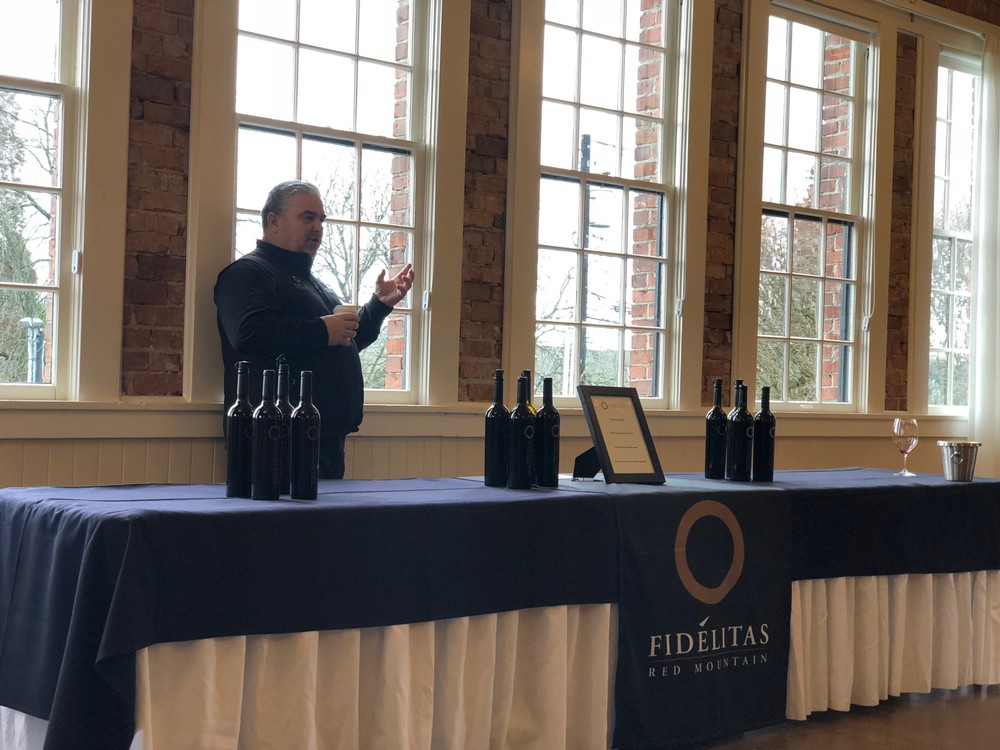 Pay attention to the # of cases produced - many of our wines are limited production and they'll end up selling out before they're released. Because they are so limited, these preview tastings are the only time we are able to pour our wines before they are released. These wines from last year were sold straight to our club members:
Even if you can't make it to the preview tasting log in to our website to make your selections. You can change your mind later (just make sure to do it before the advertised deadline) but it doesn't hurt to choose as soon as possible to make sure you get access to our most limited releases.
`Call/email our club team (509.554.9191 - club@fidelitaswines.com) or come visit us in the tasting room - we have a good idea of which wines are going to sell out fast
Other
Check out our recently updated Wine Club FAQ page
Next time you're in the tasting room ask us if we have anything else open - we often have club-only pours available!
If you're finding it difficult to make it out to Woodinville we also offer flat-rate shipping on club allocations + we recommend shipping it to your business address so there's always someone there to sign
Follow us on istagram, facebook, and check our events calendar which is updated frequently
On busier days there is parking available behind Brian Carter - parking area highlighted - red arrow is a path that leads to the parking lot: