August 16, 2016 | Michelle Marsh
Coolest Thing in the Estate Vineyard Since Cabernet
You probably already know that Fidelitas has an Estate Vineyard on Red Mountain. That's where we have our 3-acre 2009 planting of Cabernet Sauvignon (Clones 2, 6, and 8) that are absolutely thriving. The 2013 Fidelitas Estate Vineyard Cabernet Sauvignon is to be released next month!
You may even know that in Spring of 2015 we planted 9 additional acres in our Estate Vineyard, and the babies are looking good!
But did you know that we also poured a giant concrete circle smack dab in the middle of the vineyard? From space you might think it's a helicopter pad. From the ground you might think it's a dance floor. We think it's the perfect place to host our annual Estate Vineyard Winemaker Dinner.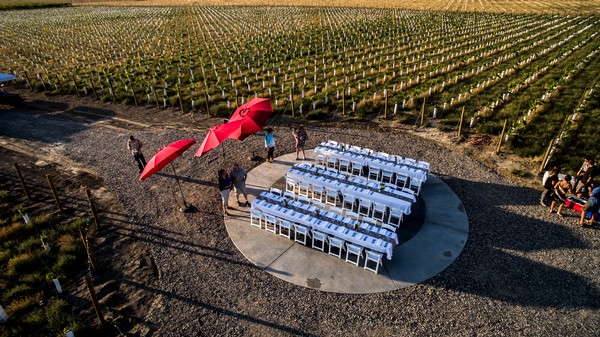 Join fellow members, friends, Charlie, and Team Fidelitas for dinner between the vines during harvest season on Red Mountain on Saturday, September 10th. Ethos Trattoria will be preparing a multi-course dinner paired perfectly with Fidelitas wines (check out the menu here!).
I think we can easily say that this dinner is an event that is close to our hearts. Owning his own vineyard and winery on Red Mountain has been Charlie's dream for decades (sorry to date you, Charlie) and now we come together each year to celebrate this reality and toast to the future of Fidelitas.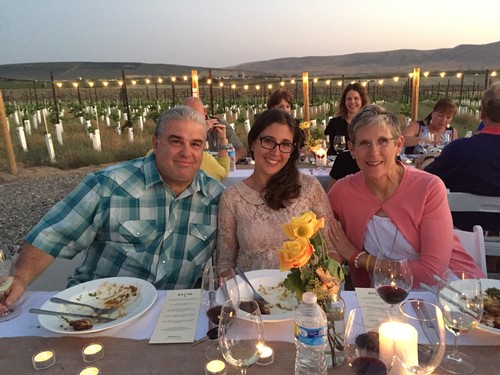 This is an intimate dinner and seats are limited. Dinner attendees are invited to join us for an Estate Vineyard walk Saturday morning, featuring a vertical of past and future Fidelitas Estate Vineyard wines.
$525 for two dinner tickets + 6-pack of 2013 Fidelitas Estate Vineyard Cabernet Sauvignon or $95 each.
For tickets, email me at michelle@fidelitaswines.com or call me at 509.554.9191
We've set up room blocks at our favorite Tri-Cities hotels and I'd be happy to help you plan your trip. If you can't make it to the dinner but want to reserve the 2013 Fidelitas Estate Vineyard Cabernet Sauvignon before its release, let me know and I'll make sure we have some with your name on it.
We hope to see you in the vineyard!