November 26, 2014 | Jess Zander
Giving Thanks
This week, I polled my team to see what they were thankful for. In return, I received several heartfelt, sincere, and slightly interesting responses. But best of all, Charlie's response: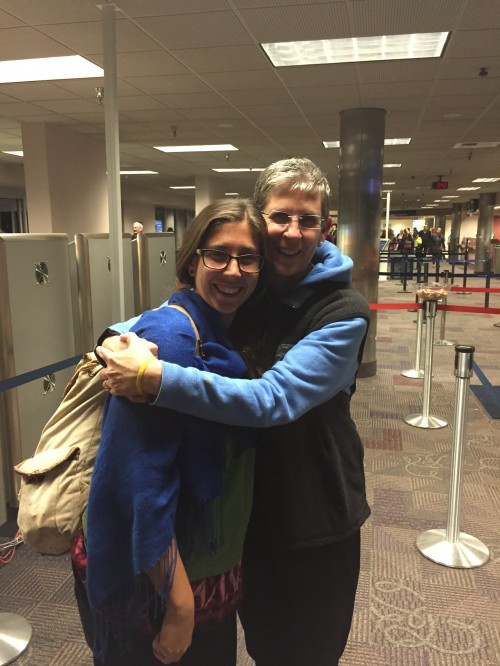 "Thankful to have her home," he texted last night. His oldest daughter, Emily, is home for 30 days from her Peace Corp commitment in Tanzania.
"I'm thankful for a warm, loving home, a healthy body, an amazing husband, and a job I love. I'm also thankful for wine, chocolate, yoga, and bubble baths to bring me back to a happy place when I forget how much I have to be grateful for." – Erin, Red Mountain Tasting Room Lead
"I am thankful for finding such a fantastic job working with fantastic people when I moved back to Washington :) I am thankful for being able to spend Thanksgiving filling my belly with delicious wine and great food made by my wonderful family. And also having the cutest dog ever to snuggle with when I need it!" – Skye, Woodinville Tasting Room Lead
"Well first of all I'd like to announce how happy I am that I've lasted over a year in Seattle (same goes for our new Woodinville Tasting Room)! I've moved into a cozy new place and learned some pretty essential Seattle things... such as where to find molten chocolate cake at midnight and where to pop in for a taste of bubbles. On that note, I am thankful that my job takes me back home to Eastern Washington about once a month. I get to double dip my family time and working on Red Mountain. I should also admit that I'm thankful that this time of year it's socially acceptable to add Bailey's to your coffee." – Michelle, Wine Club Concierge
"I am thankful for my supportive family and boyfriend. I am also thankful to be working in the area I call home, my Fidelitas family, great friends, and even better wine!" – Chelsea, Red Mountain Tasting Room
And me? I'm thankful for so much this year. A supportive and loving husband who keeps me centered, a healthy, energetic toddler who reminds me I can't control everything, a warm house, and an extended network of family and friends with whom I get to celebrate this holiday a total of FOUR times! And of course, a wonderful, fun, job that introduces me to so many interesting people and provides me with a few fun wines to throw on the table.
Cheers to you and your families!
Jess