August 19, 2016 | Amy Graham
Grilled Peaches and 2015 Klipsun Semillon
The sun is finally shining in earnest and fresh peaches are in season! I have a hard time thinking of anything that could be better than that. One of my most favorite summertime recipes is Grilled Peaches with Amaretto Spiked Mascarpone. If you haven't yet had the opportunity to grill stone fruit, stop, drop everything, and head to your local farm stand or grocery store. Grilled peaches are the epitome of summer! They are sweet, juicy, and luscious. I've combined them with rich, velvety, Amaretto spiked Mascarpone. It melts into the warm fruit and adds a layer of depth, making each bite explode with sweetness and creaminess. By itself, the grilled peach and mascarpone is heaven in your mouth. Combine it with our 2015 Klipsun Vineyard Semillon and rest assured, it will be the star of your evening. The sweetness of the peaches compliments the ripe pear notes and combined with the roundness of the wine, makes the perfect pair. Grilled Peaches with Amaretto Spiked Mascarpone and 2015 Klipsun Semillon is a light, refreshing, picture-perfect ending to your summer meal!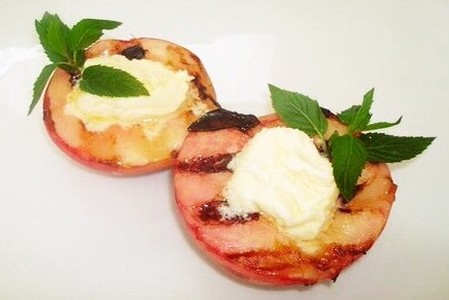 Grilled Stone Fruit with Amaretto Spiked Mascarpone Cream
Fresh Nectarines or Peaches Grilled to Perfection, Served with Almond Infused Mascarpone Cream
Serves 6
Olive Oil
3 ripe, but firm, Peaches or Nectarines
½ cup Mascarpone Cheese, room temperature
1 ½ teaspoons Brown Sugar
1 T Amaretto Liqueur or ¼ teaspoon Almond Extract
Fresh Mint Sprigs
Place a grill pan over medium-high heat or prepare the outdoor grill (medium-high heat). Lightly brush the grill pan or rack with oil. Place the peaches on the grill pan and do not move, otherwise you will not have great grill marks. It takes about 2 to 3 minutes per side to achieve this. Grill the peaches until the grill marks are formed, slightly softened and heated through, about 5 to 6 minutes total.
Combine the Mascarpone cheese with the brown sugar and Amaretto or almond extract and mix until smooth. Divide the Mascarpone Cream equally, topping each grilled peach. Garnish with Fresh Mint.
Recipe developed by Amy Graham