October 2, 2019 | Red Mountain, Winemaking | Charlie Hoppes
Harvest 2019: 30 Days in a Row and Counting...
I've been saying this since the first day we brought fruit in: 2019 is just a great year. Again, it's a unique year in that we're able to ripen fruit with lower than usual brix. The flavors that we're finding out in the vineyard are just incredible, and we've been able to make the decision to follow a picking schedule based on tasting instead of waiting for certain sugar levels to show up.
We only have about 20 tons to go in the Fidelitas Estate Vineyard. We're going to pick the remaining blocks between Saturday and Monday of this week. This is all Cabernet, and mostly our older blocks, 3a, 2, and 1, and then block 5 on the northern half of the vineyard. At that point, we'll be about 80% done for Fidelitas, only still needing to bring in Cabernet from Blackwood Canyon Vineyard and The Canyons.
This is the first year I've had my son, Will, in the Cellar with us. It's been just great having him and Mitch working together on the same shifts, and he's learning everything from the floor up. He's digging tanks, filling barrels, everything.
We haven't taken a day off since September 3rd, so we're working towards 30+ days in a row…and it's great. Each day I'm writing pump over orders that take place at 6am and 1pm each day. Currently, it's taking us about 4 hours to complete pump overs, so we basically do one round and then start all over again. Mitch, Will, and I sit down at 10am daily to taste through the wines in each of our fermentation vessels. This is invaluable for Will to start building his own database with his palate. It's natural for Mitch and I and we're able to make decisions based on a quick taste, and Will is learning quickly.
I generally consider Halloween my first day 'off' from Harvest. I remember looking forward to it when the kids were little, getting to go home and see their costumes and just spend time with the family. While I don't have little ones at home anymore, I still think we'll be on track for that Halloween day off, although still with plenty to do in the Cellar. Harvest keeps us busy, but it's the best kind of busy.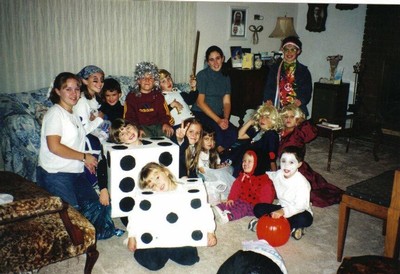 winemaker in training, Will Hoppes, sporting a lovely blond wig