December 17, 2014 | Michelle Marsh
My Favorite Ways to Share Fidelitas
1. The Gift Pack - You had me at hello, gift packs! I've already made so many decisions trying to perfect my gifts this year I just can't do it anymore. Thank you for already being assembled for me AND gift wrapped. With all of the effort I'm saving, I suppose I can sit back and enjoy a glass of wine instead of battling traffic on the way to the mall for the 3rd time this week.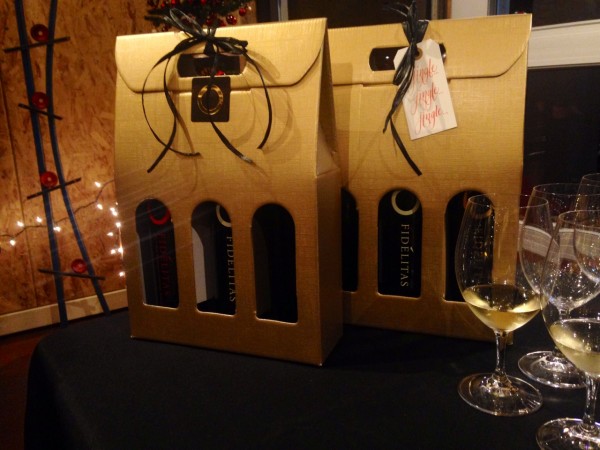 2. The Gift Membership - This my friends, is the gift that keeps on giving...literally! Show your brother in Michigan that you're thinking of him all year with a membership to the Fidelitas Wine Club. We'll send them club releases four times throughout the year with access to Fidelitas' best releases, club only events, and complimentary tastings at both tasting rooms all year long. I must say, I also highly recommend this gift for your best friend who always ends up opening your favorite bottle of Fidelitas when they come to your house for dinner. Take my word for it, they will love you forever.
3. The Co-worker Gift - I owe this idea to some of our brilliant and ever so busy professionals in the club. We all have those people we work with everyday that listen to our rants about the 100 emails that are blowing up the system or those that get us coffee when we're on a 14 day stretch in the office. Without them, we would all have a case of the Monday's everyday, which is simply unacceptable. Give us their name and office address and you're done! We'll send them a bottle with a special note from you. *Hosting an office party? Think Columbia Valley Cabernet Splits as party favors!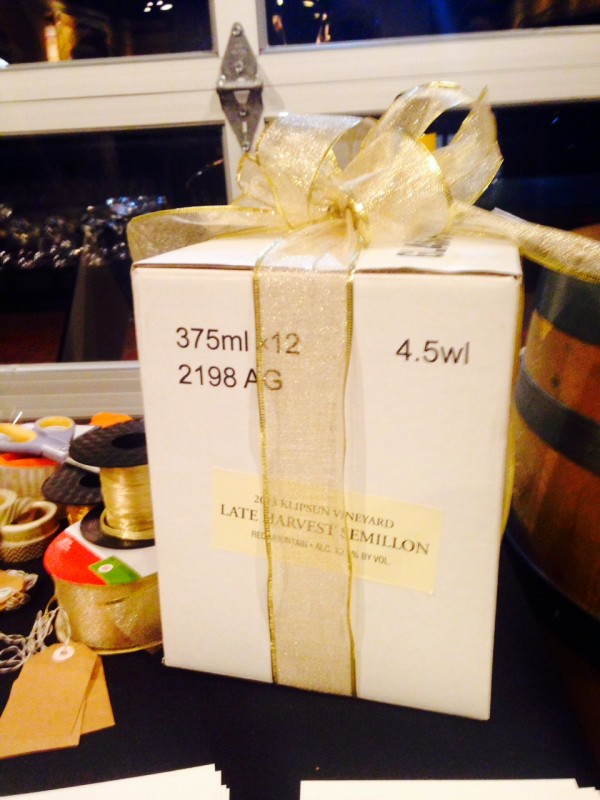 4. The Drink Now/Save For Later - Seriously, you can give this to anyone and everyone and it's thoughtful and simply put... great. Here's how it goes: buy one bottle you don't feel guilty for opening up on a Tuesday night after work such as the 2012 4040 Red Wine (retail $32) or 2013 Klipsun Vineyard Optu White ($32) for the Drink Now portion. Then to Save for Later, give them something with a touch more elegance that can stand some time in the cellar such as the 2010 Champoux Vineyard Cabernet Sauvignon (retail $65). You have given them something they can enjoy right away (for us instant gratification people) and something that they can open at a special occasion (say Christmas next year?!).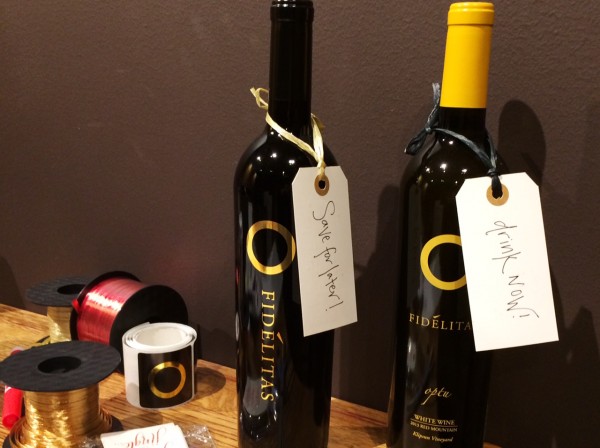 5. The Experience - Have you been dying to introduce your friends Fidelitas? Do you need more ideas for family time? How about a date with a special someone? Introduce them to Fidelitas with a tasting experience at either one of our tasting rooms. This includes a flight of five Fidelitas wines paired with cheeses for $30 for 2 people. This gift is an experience they will always remember!