April 24, 2018 | Red Mountain, Winemaking | Charlie Hoppes
News from the Winery + Vineyards
As we come in to the end of April, I thought I'd take the time to talk a little bit about what's going on here at the winery and in the vineyard.
We're working hard in the cellar. Already, we've bottled some of the 2017 whites, including Quintessence Vineyard Sauvignon Blanc, which came out of the Ovium Barrel, and later this week will be the Semillon. With the Optu White Wine, we are going to let things age out a little bit longer. We have equal parts of the Sauvignon Blanc for this blend in our new concrete egg, and in the standard French Oak that we've used in the past. We want to see what each component is like and can bring to the blend and will either use one or the other, or maybe a mixture of both in the final blend. Overall, we like to give the Optu White just a little more time to pick up some creaminess and a bit more flavor.
On the reds side, we're doing some testing with letting the 4040 spend some time in the oak upright tanks before bottling. That blend doesn't get a bunch of oak aging otherwise, so we'll see what this 'flashing' at the end does as far as boosting the final product. This is another example of how we aren't ever following the same recipe and are always willing to try new things to make excellent wines. Beyond that, in June we're planning to start bottling some 2016 reds, including that 4040, as well as some Malbec, and Merlot, and then the Cabernets and bigger blends will fall later in to the summer.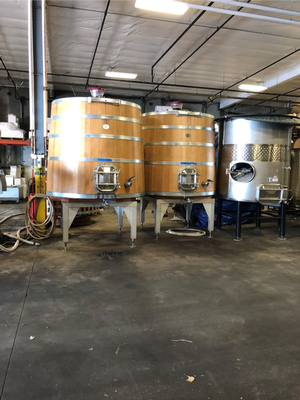 4040 spending it's final days in Oak Upright tanks, prior to June bottling
Out in the vineyard we're starting to see some bud break, and it's like we're starting anew. Like in the fall, when we're in the cellar and starting to make wine again, you feel like you're starting a new vintage. Really, that vintage starts right now when you're starting to see some growth and are starting to prune things a certain way. I think one of the things that is great to see is that there is a lot of new planting on Red Mountain. A lot of the fruit we take, and wines that we make, are from these newer sites. This includes Quintessence, which was planted in 2010, and we took the first crop in 2012. Same thing with The Canyons Vineyard, that was planted in 2009, and we took our first crop in 2012 as well. As these vineyards age out, I think that these wines are going to settle and even out, and we're excited to work with them long term.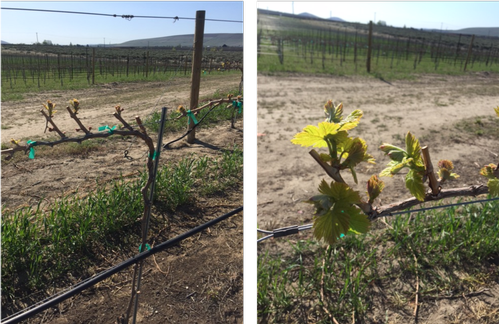 Bud break in the Fidelitas Estate Vineyard
The other thing that is exciting for us to see is getting to third leaf in our new planting of the Fidelitas Estate Vineyard. These are the 9 acres we planted in 2015, that we will now be coming in to perhaps half production this year, based on what we've seen so far. This is really going to give us the chance to see what the wines might be like. Not only with some new Cabernet Sauvignon clones that we planted out there, like 412, 33, 169, but also some clones 2 and 6 in addition to the original planting of 2, 6, and 8. We'll also be looking at how the Merlot is going to come on, as well as the Petit Verdot, Malbec, and Cabernet Franc. We're really looking forward to seeing how those are going to start turning out and are thinking about the next chapter of the vineyard.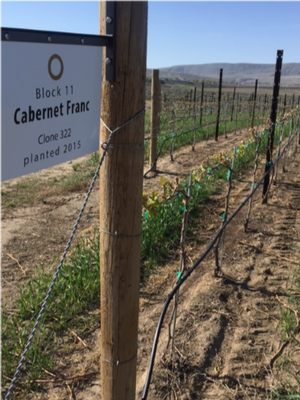 Exploring the new plantings of the Fidelitas Estate Vineyard
Overall, on Red Mountain, things look good. We're maybe a little bit behind a normal year, but as we know, a nice little heat boost along the way can push things forward really quickly. Already, we are scheduled to get to 86 later this week, which is really warm for the end of the April, and believe me, will push shoot growth and get us closer to a normal year.
As far as newly released wines, we are focusing a lot on Quintessence Vineyard right now. I really think that this is a great vineyard. The main blocks we take from give us extreme southern aspect, we are working with some great clones, and probably the most essential part of the vineyard, is the human factor on the terroir and what a great job they are doing there. The Sauvignon Blanc, Malbec, and Cabernet Sauvignon are all tasting great upon release.