June 1, 2017 | Will Hoppes
Red Mountain: A Look Into The Future
Before we make predictions about how Red Mountain will look in the next 5, 10, or 15 years we must look at where we've been. More specifically the dramatic change that our AVA has undergone in the past 3 years. Since the completion of the 5-year-long Kennewick Irrigation Districts: "Red Mountain Project" which brought Yakima River water to the southwestern facing "scrublands" (as they were endearingly referred to in this 2015 Tri City Herald article, the total acreage planted has doubled to 2300-2400. Over half of the entire area. Taking a look at EveryVine.com, you'll notice how dense Red Mountain planting (57.5%) is compared to other famous American regions' % planted; Napa Valley = 2.9%, Oakville (Napa Sub-Appellation) = 24.2%, Saint Helena (Napa Sub-Appellation) = 5.4%, Yountville (Napa Sub-Appellation) = 12.1%, Sonoma Valley = 9%, and Walla Walla Valley = 0.9%, to name a few.
We know that Red Mountain produces extremely high-quality fruit from older vineyards that we've worked with like Kiona, Ciel du Cheval, and Blackwood Canyons planted back in the well-water days and think that the best is yet to come. We're not alone. Charlie estimates that 5 more wineries will be built within the next 3 years. He's not worried about the mountain losing its farmland charm as the entire area is zoned for agriculture -- It'll be all vineyards and wineries for now. Plus the high-profile neighbors moving in, planting vineyards, and building wineries will make Red Mountain even more of a Washington Wine lover's dream destination.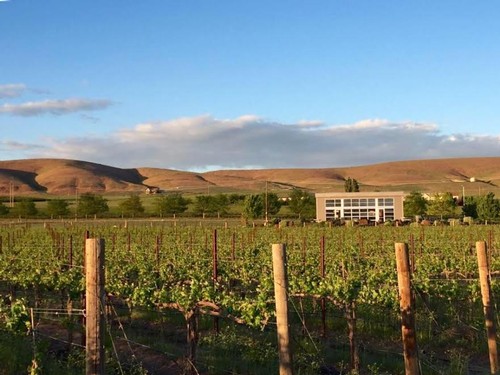 Although Charlie was first introduced to Red Mountain in 1989 and we've called it home for 10 years now, there's still so much to be done. We've been highly impressed by the quality of our estate fruit for such a young vineyard (first planted in 2008). Charlie envisions future bottlings of Merlot, Petit Verdot, an Estate Red Blend, and was specifically excited about offering the wine club Individual Clonal Cabernet releases. As it stands now we have 6 different clones of Cabernet planted. The latest release of the Blackwood Cabernet was also a good sign to see that type of old-vine quality coming from a vineyard so close in proximity to ours.
The Estate isn't the only young vineyard that we're excited about. With the quality that we've gotten from younger places like Quintessence (established in 2010) and Canyons (established in 2009), Charlie believes that in 10 years' time Red Mountain will be the best place to make Cabernet in the world. I jokingly told him that I'd quote him on that – I quickly realized he wasn't joking. At a recent birthday dinner paired with some Santa Maria Tri Tip and grilled oysters we had our 2012 Estate Cab and some 2009 Napa Cab from Martha's Vineyard, both incredible, but we wouldn't say that one was of superior quality (although at our un-blind, and biased tasting we preferred Estate).

In the winery, Charlie and his team are also staying true to modern craft winemaking techniques by playing around with new and innovative ways to ferment reds in direct contact with wood. He estimates that 50% of the wines this year will be fermented using some sort of wood method while 100% of the Estate wines will receive the oak treatment. Depending on the fermentation method used the wines are barreled separately them to a) get a better sense on how the fermentation methods are affecting the wines, and b) giving them more to play with come blending time. From my understanding, the roller fermenters offer a more intimate cap contact with the juice since it's fully enclosed and there's nowhere for the cap to go – wood in general also provides better insulation that stainless steel. Charlie also admits that he doesn't fully understand the interchange of the phenolics in the wood and grapes during this process (as opposed to traditional stainless-steel fermentation), however says that in general it gives the juice a more viscous mouth-feel, and that the investment in oak fermenters have been well worth the investment thus far across the board.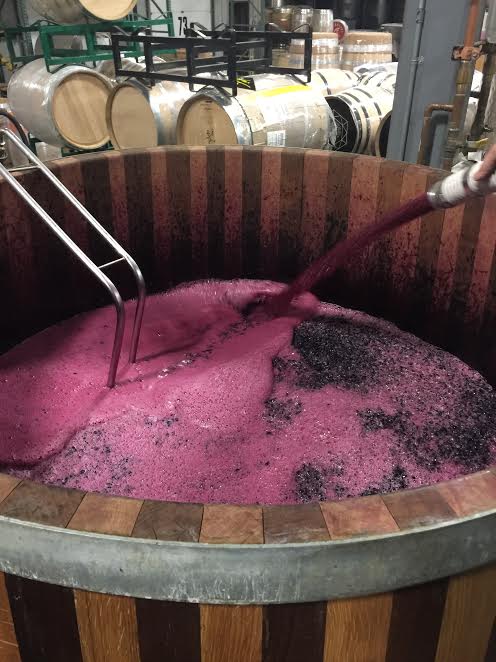 I for one am proud to be all-in on Red Mountain, and look forward to what the years ahead bring for Fidelitas and our AVA that we call home.