June 8, 2016 | Jess Zander
Summertime Wines: Klipsun Semillon + The Canyons Vineyard
This June, we are releasing a special set of wines, and with the temperatures (already!) so warm, I cannot imagine a better duo for the season. Around my house, we've already hosted backyard dinners, utilized the kiddie pool, and picked raspberries a full month before usual. This weather has me craving white wines that are crisp and refreshing, and reds full of flavor and concentration for those steaks from the grill. Before we get to enjoying, however, we have been learning about why these are such fun additions to the Fidelitas line up.
To start – we have the 2015 Klipsun Vineyard Semillon. This is our 3rd vintage of white wines from Klipsun Vineyard, with each selling faster than the previous vintage. In the Fidelitas line up, we make just two dry white wines, using Semillon and Sauvignon Blanc, as these are two of the white wine varietals that would be found in the Bordeaux region of France. White grapes make up less than 5% off the total crop on Red Mountain, and being one of the hottest regions in the state, we think it is quite the feat to produce a quality white wine from this notorious red wine region.
Klipsun Vineyard gives us all the fruit we need for our whites. Not only is it one of the lowest elevation vineyards in the small, sloped, AVA, it is one of the most established and has excellent cooling winds from the Yakima River. Charlie told me: "older vines like this are sort of self-regulating. They produce the right yield and crop, we just have to know when to pick." In the hottest vintage on record, picking earlier than usual (like my raspberries) was the key. This wine has me dreaming of buffalo mozzarella and peaches.
Our next release comes from a brand new vineyard for us. The Canyons Vineyard lies along the western border of the AVA, just north of Klipsun. The name comes from the deep ravines within the vineyard, that funnel air up from the river below. Currently, Fidelitas is sourcing Cabernet Sauvignon (clones 4, 6, and 21) from blocks planted in 2009 and not too far from our own Fidelitas Estate Vineyard, so Charlie is watching these vines with great interest as our own site develops. In addition, we are pulling a unique clone of Malbec, clone 9, from one the blocks that dips way down in to one of the vineyard's ravines. (side note: last summer, I drove the staff through this block in a rented SUV. They were all quite nervous, but we're here today to tell the story.)
2013 The Canyons Vineyard Red Wine is 83% Cabernet Sauvignon, and 17% Malbec. In my house, it'll be our go to for summer grilling and casual nights with friends. It's approachable, fruit forward, and great with food. Following my fancy buffalo mozzarella salad, I'm going to do some nice burgers with Skillet's bacon jam (make sure to try it at Summer in the City!) and settle in to my summer evening with this red blend.
Cheers to you all. I hope your summer is full of great wine and friends.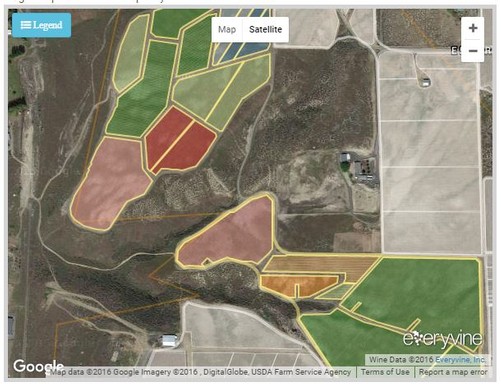 If you haven't already, check out everyvine.com. Cool stuff. This shot shows the steep canyons cutting through the middle of the vineyard. Our Malbec clock is in orange. The Cabernet Sauvignon is the dark green in the lower right. The Fidelitas Estate Vineyard is just beyond that, to the southeast.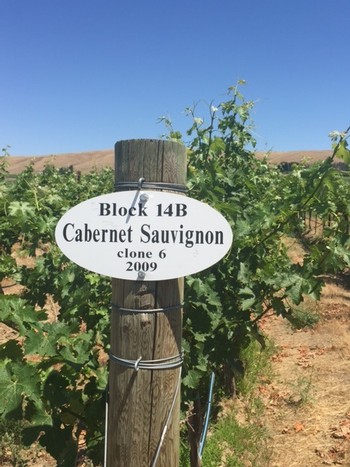 Clone 6 Cabernet Sauvignon. "The Winemakers Clone", planted about 400 yards from the Clone 6 in our 2015 Estate planting.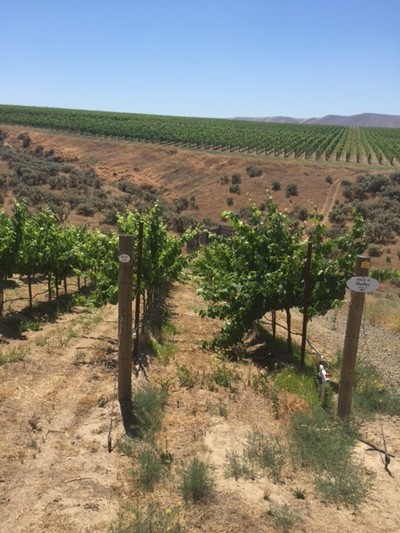 And they didn't trust me to drive on these roads... Malbec in Block 11, tipping into one of the canyons. Charlie says, "check out that slope!"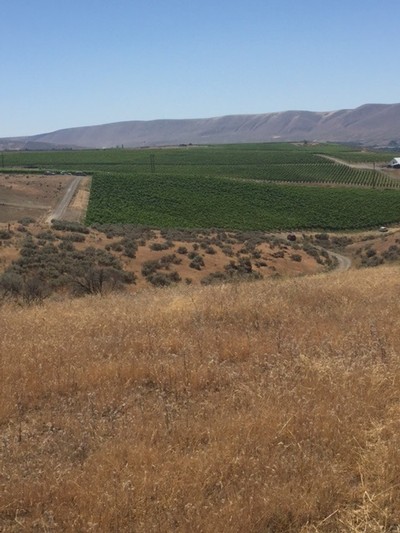 View of Malbec and Cabernet Sauvignon from the north blocks of Merlot.