February 4, 2016 | Amy Graham
Super Bowl 50 + Fidelitas
Super Bowl 50 is upon us once again. This year, why not change things up a bit and try some new game day snacks and drinks? We've paired some tried and true, along with some new appetizers with our Fidelitas lineup and we think you'll agree that you will come out the winner.
Our just released 2013 Red Mountain Malbec is nothing short of spectacular. With its bright palate and juicy notes of boysenberry, raspberry and baking spices, it finishes with subtle, lingering tannins. This wine would be fantastic paired with your favorite Chili. Or try pairing them with Bacon Wrapped Jalapenos.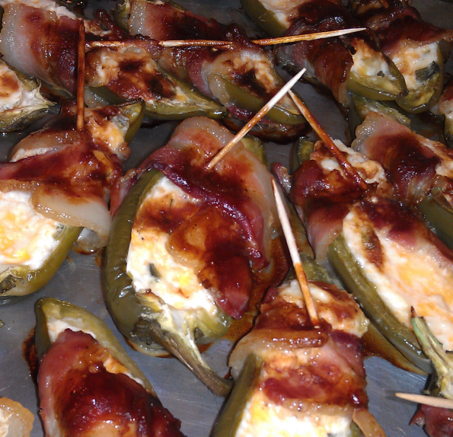 Graham's Bacon Wrapped Jalapenos
8 oz cream cheese, softened
1 cup sharp cheddar, shredded
½ cup green onions, chopped
1 pound bacon, sliced, then cut in half
½ cup favorite Barbeque sauce
12-15 whole, fresh jalapenos
Using gloved hands, slice jalapenos lengthwise and remove seeds and membrane and set aside on parchment lined baking sheet. In a large bowl, combine cream cheese, cheddar cheese, and green onion. Mix well. Fill jalapenos with cream cheese mixture and wrap with one half slice of bacon and secure with a toothpick. Brush the tops of the bacon with BBQ sauce. Bake at 300 for 45 minutes or until bacon is done. Makes 24-30.
---
The 2014 Klipsun Vineyard Optu White is a shoo-in paired with your favorite Spinach Artichoke Dip or Smoked Salmon with Cream Cheese. Our favorite is Optu Shrimp, a spicy concoction of cilantro, garlic, red pepper flakes and Optu White.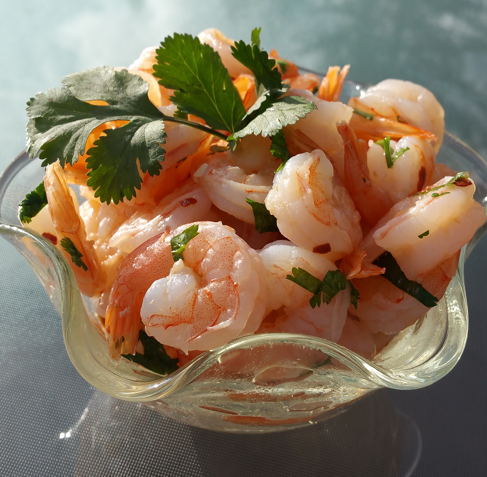 Amy's Optu Shrimp
¼ cup olive oil
5 garlic cloves, minced
2 pounds raw shrimp, 26-30 per pound, peeled, deveined, tail on
1 cup Optu White Wine, divided
¼ cup lime juice
2 T fresh Cilantro, chopped
1/8 t kosher salt
1 T crushed red pepper flakes
Heat heavy skillet over medium heat until hot. Add olive oil and garlic and saute 10 seconds. Add shrimp and ½ cup Optu White wine. Cook until shrimp are translucent, about 3-5 minutes. Drain shrimp and add to glass bowl. Add lime juice, reserved ½ cup Optu White wine, cilantro, salt and red pepper flakes. Mix well. Cover and refrigerate 2 hours or up to overnight. Drain before serving. Serves 10-12 as an appetizer
---
Our 2012 Merlot line-up is amazing and any of them (Ciel du Cheval, Red Mountain Merlot, Champoux Merlot) would be delightful paired with Twice Baked Loaded Potato Skins or Cubano Sandwiches. Each one represents Red Mountain well and would be a great addition to your Super Bowl table.
Our 2012 Ciel du Cheval Red Wine is a delicious blend of Merlot, Cabernet Sauvignon, and Cabernet Franc. With notes of black fruit and a hint of toasted oak, it would be fantastic paired with Teriyaki Meatballs or the classic favorite, 7 Layer Dip.
---
The 2012 Boushey Red Wine is a delicious blend of Cabernet Sauvignon, Merlot, and Cabernet Franc. It is silky and aromatic and would pair beautifully with Garlic Tomato Bruschetta or Lu's Homemade Mac n' Cheese. Both recipes are listed here and would be a fantastic addition to your Super Bowl line up.
Shelley's Garlic Tomato Bruschetta
3 T fresh basil
3 garlic cloves, minced
4 or 5 tomatoes, medium sized, diced
1/4tsp pepper
1/2 tsp salt
1/4 cup olive oil
1 loaf unsliced French bread
2T parmesan cheese, grated
In a large bowl, combine basil, garlic, oil, salt and pepper. Add tomatoes and toss gently. Sprinkle with cheese. Refrigerate at least 1 hour. Bring to room temperature before serving. Cut bread into 24 slices; toast under broiler until lightly browned. Top with tomato mixture. Serve immediately. Yield: 12 servings.
Lu's Homemade Mac n' Cheese
1 lb Barilla Elbow Macaroni
4 T butter
8 oz cream cheese, whipped
4 cups milk
2 t Worcestershire sauce
2 t salt
Pepper to taste
4 cups cheese, shredded (**See note**)
Preheat oven to 375. Lightly coat a 9x13 pan with canola spray. In separate bowl, combine milk, Worcestershire sauce, salt and flour. Mix until flour is dissolved. Set aside. Cook macaroni according to package directions and drain. Immediately put macaroni in prepared pan and add butter. Stir and add cream cheese. Mix well. Add milk mixture and cheese and mix well again. Bake for 35 minutes. The last 5 minutes, turn the broiler on and caramelize the top of the mac n' cheese. Serves 6-8.
**Note** Cheese is the star ingredient here. Lu suggests using 4 cups of Habanero cheese if you like it hot or 3 cups of sharp cheddar (Beecher's is a favorite) and 1 cup of Habanero. You can also do 2 cups of cheddar and 2 cups of pepper jack. Just be sure to use a good, sharp cheddar!
---
Try pairing our 2012 Ciel du Cheval Cabernet Sauvignon with our Offensive Line Beef Bites. The wine is full-bodied with black fruit notes on the palate and would complement the shaved rare Prime Rib and Aged Cheddar in the bites.
Offensive Line Beef Bites
1 box Triscuit brand crackers
½ pound Prime Rib, Rare, shaved
½ cup Dijon mustard
½ pound Aged White Cheddar cheese (such as Beecher's)
Spread Dijon mustard on each cracker and top with shaved beef and aged Cheddar. Serve immediately. Serves 6-8
---
Who could forget dessert? The classic characteristics of cherry, raspberry & vanilla of our 2012 Red Mountain Cabernet Sauvignon would be perfect match for Caramel Corn with Chocolate and Bacon.
Beth's Caramel Corn
24 cups popped popcorn (1 ½ - 2 cups unpopped kernels)
nonstick cooking spray
1 cup Butter
2 cups firmly-packed brown sugar
1/2 cup light corn syrup
1 tsp salt
1/2 tsp baking soda
1 tsp vanilla
Preheat oven to 250F. Coat the bottom and sides of a large roasting pan with nonstick cooking spray. Place popped popcorn in large bowl or container.
In a heavy pan, slowly melt butter; stir in brown sugar, corn syrup and salt. Heat to a boil, stirring constantly; boil without stirring for 5 minutes. Remove from heat; stir in baking soda and vanilla. Beware - this will foam up so work quickly and make sure the pot is big enough! Gradually pour over popped popcorn, use two large spoons to mix well. Bake for 1 hour, stirring every 15 minutes. Remove from oven, cool completely. Break apart and store in tightly-covered container.
Add-ins:
Fry minced bacon until just done, (not crispy) and drain. Add to caramel corn before baking.
Drizzle melted Dark chocolate over cooled caramel corn.
Add salted peanuts to caramel corn before baking.
---
We hope that we've piqued your interest with our wine and appetizer pairings and look forward to seeing you in our Tasting Rooms soon in preparation for the big game on Sunday, February 7th. Both Tasting Rooms will be closed on Sunday, so be sure to stop on before then to stock up on your favorite wines.