March 11, 2015 | Events | Jess Zander
Taste Washington: Plan Ahead!
In just a few weeks, I'll be attending my 9th Taste Washington. Wow. Of the eight I've been to (worked at) so far, I have been on the restaurant side twice, and the winery side eight times. I have met amazing people who are genuinely interested in learning more about the restaurant, the winery, or just wine in general. I've chatted with Club members from as far as Tennessee who came to Washington just for this event. We've met new people who have become dedicated Fidelitas fans as a result of finding us at Taste. It is truly an amazing weekend.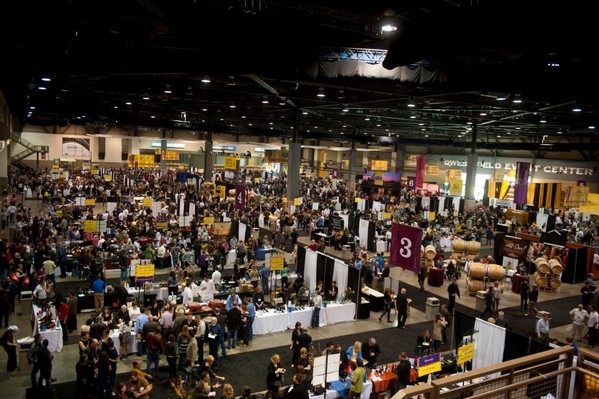 This year, I get to bring a few newbies with me who have yet to attend Taste. I've been thinking about how to prepare them and decided to share my thoughts…
Enter with a plan
There is so much wine at this event. Spend some time perusing the event program in advance and highlight some wineries that you might want to visit. Don't worry about tasting every wine that a winery might be offering…just go for the one that really interests you. Think about what you want to gain. I'll encourage my team to seek out wineries they have not tasted from before and to come up with two brand that are really comparable to Fidelitas and two that are really different so they can speak to the great variety that Washington wine country has to offer.
Drink
Water. And lots of it. There are water stations everywhere. Grab a bottle and stick it in your purse or swag bag. Chug a bottle between every couple winery visits. If nothing else, it helps to clear the red off of your teeth. Also remember…unless your glass is getting really funky, there is no need to rinse your glass between tastes. Residual water in your glass will dilute the next wine you taste. I always offer to rinse with wine prior to a taste to clear out a white or red or sweet that you had before.
You'll also note that there is a bunch of beer at the event. I'll tread lightly here because I know there are some mixed feelings on this. However, remember that beer (like wine) has alcohol in it and that polishing off a pint glass is only going to get you to your finishing point that much earlier in the day.
Eat
Similar words here as with the wine plan. Our wonderful Kathleen prints off the map of the venue in advance and circles the restaurant booths that she wants to visit. She has always been better than me on this and ends up eating some wonderful food, where I often just grab things as I see them. Plan on having a big breakfast before you show up and maybe stick a protein bar in your bag if you don't think you can fill up on little bites.
Attend a seminar
This is new for me! I've always heard great things about the seminars and I get to attend my first one this year when Charlie sits on the panel of the Red Mountain AVA spotlight. There is a great line up of subjects this year where you can really enhance your knowledge of Washington wine.
Be careful with clothes (and shoes)
Watch for it. There will be someone in an all white suit that gets red wine down the front of them, and there will be someone limping over crumpled carpeting in heels. I don't want to be critical of anyone, but do want to advise that people remember this is a standing event where almost everyone is bumping around with red wine in their glass. I'll be in black and flats.
Exit with a plan
Please! Get an uber, call a cab, hop on the bus. Even better, take advantage of one of the hotel packages the Wine Commission has set up and make a weekend out of it. You bought the ticket to taste wine, so taste and have fun! But, with this much wine, it's really hard to say "oh, I'll just have a little and then be okay to drive home". I have to get out on the road with everyone at the end of the day and want to make it home safely to my baby.
I look forward to seeing my friends at Taste this year!