March 26, 2019 | Jess Zander
Taste Washington Survival Guide
I almost hate to admit it, but I have worked every Taste Washington since 2007…making this year my 13th consecutive celebration of Washington wine. (writing that out, it makes me realize that is the same number of years I spent in my K-12 schooling…yikes) Year after year, it is a wonderful chance to see old friends and meet a few new ones. And with this many Tastes logged, I think I'm close to calling myself an expert. Here is my updated survival guide for Taste Washington.
Figure Your Ride
This is so key in advance. You do not want to plan on you or someone in your party being able to drive home. If you are going to consume any wine…do not plan on driving. Extra fun this year: did you know that it's the Mariners' home opening games versus the Boston Red Sox? That is just going to make traffic and parking even worse. Since my last post, we now have the light rail, ride share options are so easy, and the Commission has partnered with even more hotels around town.
Figure Your Plan of Attack
The 2019 Taste Washington event guide is now available! Take the time to scan through and highlight your must hit list. Challenge yourself to try a few new things! I love meeting people for the first time who have never encountered our wines before. Try a new winery (and learn their story!), a new varietal, or a restaurant dish that you'd never order on your own.
It's Hip to Spit
For the second time in this post, I'm going to age myself. Somewhere in my first few years, the slogan of Taste and associated events was "Hip to Spit". Not the most hip slogan, but it's a good message (super sorry, Taste WA 2019 - I don't totally believe in must.taste.everything). You can't have it all, nor is it responsible, nor will you remember it all (or your weekend) if you do. Try some amazing wines and be okay with spitting a few out. Use a spit cup to be discreet and dump at one of the many, many receptacles around the venue.
Elevate Your Experience
There is more to Taste than the 235 wineries at the Grand Tasting. There are dinners, lunches, seminars, and high end, intimate tastings. Charlie and I will be at Red + White this Thursday sharing some sold out, old vine wines out of the library. At the time of this writing, there are still Red + White tickets available! Find your red or white super suit and come down to see us on the waterfront.
Whatever the Event…Figure the Etiquette
Here is the basic sequence of tasting a new wine: smell, swirl, smell, sip, swish, swallow or spit! You want to experience the wine right when it's poured, see what air does to the aromas with a light swirl, give it another whiff, and then taste it. Allow the wine to hit all areas of your mouth to get a feeling for the acids, the fruit, the tannins, and the structure of the wine. And then (see point 3) decide what you're going to do with it.
Other basic etiquette involves caring about the wine beyond if it's red or white and holding your glass steady while someone is pouring (you don't know many times I've poured wine on the table from people pulling their glass away - just because you move your glass doesn't mean I'm going to stop pouring). If you really want to know what winery people are thinking, read THIS, which I'll admit is old, but it makes me laugh every time I read it.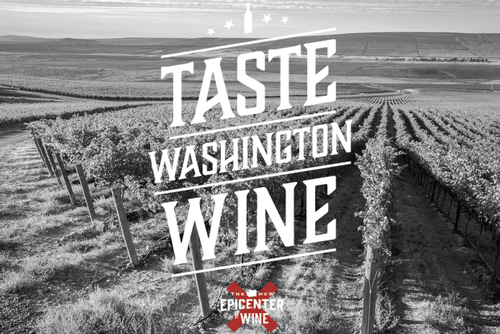 I can't wait for another great Taste Washington weekend. Charlie, who has many more Tastes in the books, considers this a true celebration of the Washington wine industry, where we all gather to celebrate this amazing corner of the wine world. Please come by to say hi and check out the special wines we've brought to share. (hint: there is always a surprise for those who ask…)