February 27, 2015 | Jess Zander
The Evolution of Optu
I came to work with Fidelitas in 2008, just as we were releasing the 2005 vintage reds. The tasting room on Red Mountain had been open for a year, but everyone had their stories of where they had experienced Fidelitas before then. For me, I first met Charlie at Canon de Sol (years before starting with Fidelitas), and then again in the Sandhill building. At one point in time, I was lucky enough to get a tour of Red Mountain with Charlie before so many of the great vineyards of today were even planted.
I've noticed that most stories have Optu woven in somewhere. My aunt recalls when she ordered some wine as a gift and Charlie delivered the case of 2002 Optu Red Wine to her door, case perched on his shoulder. The 2005 and 2006 vintages were very popular in distribution and so we picked up several new Fidelitas fans who had the wine at their favorite wine bar. This is the wine that has been with us from the beginning, representing our optimum blend of vineyards and varietals from each vintage.
And so now, a brief history of our signature blend, which started as Meritage, became Optu Red Wine, and now represents the region we call home as Optu Red Mountain. Optu first debuted in the 2000 vintage, and is now being released in its 13th variation as the Fidelitas 2012 Optu Red Mountain.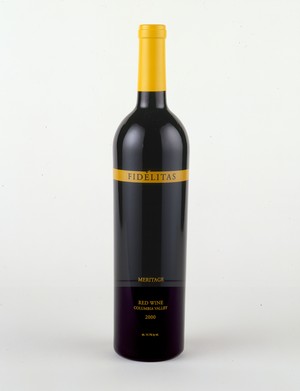 The 2000 Fidelitas Meritage debuted as a blend of 62% Cabernet Sauvignon and 38% Merlot. Our first vintage was limited to just 375 cases of this one wine. We kept the Meritage name and this bottle through the 2001 vintage (a blend of 61% Cabernet Sauvignon, 25% Merlot, 7% Cabernet Franc, and 7% Malbec) and gave the wine a friend with the addition of Columbia Valley Syrah.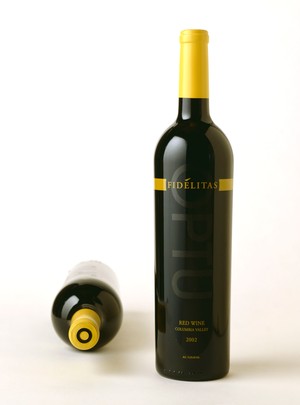 2002 is perhaps our most exciting vintage by packaging standards, and the origin of the name OPTU. I also happen to LOVE this vintage and was lucky enough to hoard some for several years. A blend of 54% Cabernet Sauvignon, 37% Merlot, and 9% Malbec. I believe that this is the first wine we included some Red Mountain fruit in, with 10% of the make up coming from Red Mountain Vineyard. We bumped the line up to a total of 6 products in this vintage, most notably with the introduction of Champoux Vineyard Cabernet Sauvignon.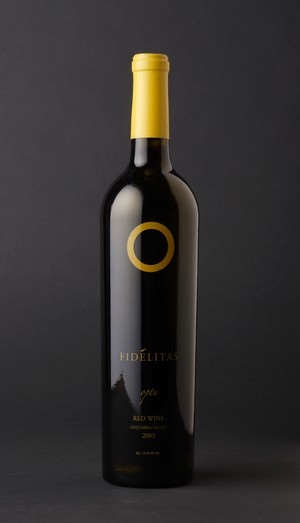 By 2003, we came up with a design for the bottle that has stuck with us through the 2013 white wines. This is a great time for a shout out to our tireless designer, Joe Farmer of Whizbang Studio. He does awesome work and is a truly nice guy. Back to the wine…2003 Optu Red Wine is comprised of 68% Cabernet Sauvignon, 28% Merlot, and 4% Cabernet Franc. We basically exploded to 9 products in this vintage with the addition of 2 white wines: the Columbia Valley Semillon and Elerding Chardonnay!
2004 sticks out in my mind as one of my favorites during the 10 Vintages of Optu dinner (also known as the flying salad dinner). 53% Cabernet Sauvignon, 27% Merlot, 10% Malbec, 7% Petit Verdot, 3% Malbec…our first blend using all 5 Bordeaux varietals.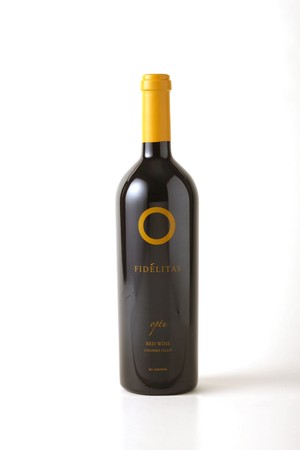 In 2005 we introduced the linebacker bottles. Big shoulders, heavier than anything, and could only fit in 6-packs. It seemed like a fun idea until people complained about the bottles not fitting in their cellars. This only lasted us through 2 vintages… 2005 Optu is still showing fabulously now (as evidenced by my 05 Party), as a blend of 55% Cabernet Sauvignon, 36% Merlot, 6% Cabernet Franc, and 3% Merlot. In this vintage, we also debuted our first Red Mountain dedicated wine, the 2005 Red Mountain Merlot, and created the Boushey Red Wine as a tribute to Dick Boushey's 25Th anniversary.
In 2006, Optu was made up of 68% Cabernet Sauvignon, 23% Merlot, and 9% Cabernet Franc. My fondest memory from this vintage was Charlie saying…"sure, you can lay them down, but why? They're great now!" We also introduced Ciel du Cheval Vineyard Cabernet Sauvignon in this vintage.

2007 brought another packaging change for some of our wines, thinner bottles, and one of Charlie's favorite vintages. 07 Optu showcased 55% Cabernet Sauvignon, 30% Merlot, 9% Malbec, and 6% Petit Verdot. We were at 15 products by this point in time with the addition of Red Mountain Red Wine, Red Mountain Merlot, and Red Mountain Cabernet Franc. We also gave Charlie the challenge of focusing just on Bordeaux varietals, and so Syrah fell away from the line up after 2006. 2008 stayed in the same bottled with 61% Cabernet Sauvignon, 22% Merlot, 11% Cabernet Franc, and 6% Malbec. 2009 also got to stick in the same bottle (that's a record!) and is made up of 70% Cabernet Sauvignon, 20% Merlot, 5% Cabernet Franc, and 5% Malbec. This still stands out as one of my favorite vintages and I am squirrling away as many bottles as possible.
2010 was a turning point for Fidelitas, and for Optu. In this vintage, we released the Optu Red Mountain…a blend dedicated just to the region we call home. Still a blend, this vintage also favored Merlot with 53%, then 30% Cabernet Sauvignon, 12% Cabernet Franc, and 5% Petit Verdot. Love this wine. We got to keep the Merlot dominance in the 2011 vintage of Optu Red Mountain with a blend of 50% Merlot, 34% Cabernet Sauvignon, and16% Cabernet Franc. This vintage sold out in about 2 months. Lucky for those in the Wine Club!
And so now, we end with the current release, our 13th vintage of what is now known as Optu Red Mountain. A big, bold wine at this point in time, that is worthy of time in the cellar for sure as a blend of 77% Cabernet Sauvignon, 13% Merlot, 7% Cabernet Franc, and 3% Petit Verdot. By this point in time, we have 18 red wines and 2 white wines: all Bordeaux-varietals, and 90% Red Mountain grown with the exception of some lasting vineyard relationships that are too good to pass up.
This blog post took me way longer to compose than I intended, but I think it's because I truly do feel a connection to Optu. It was fun to go back through the vintages and remember different times that I've had the wines myself. If anyone has an Optu memory to add, I'd love to hear it.