February 21, 2018 | Chelsea Brophy
The six points of Red Mountain
On a regular basis, I am asked by guests, "what makes Red Mountain so special." It's one of my favorite questions and topics to share with visitors! Red Mountain is woven into our story from start to finish. From our first vintage of Red Mountain Merlot that dates to 2005, to our tasting room that opened in 2007, and our Estate Vineyard that was first planted in 2008, we are all in on Red Mountain. As an AVA, we've established six points that make the region we call home unique and specific to Red Mountain.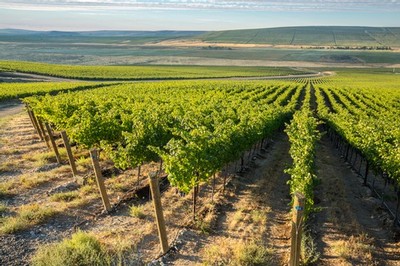 Southwestern Facing Slope
The southwest slope provides the vineyards in the region with a direction aspect to the sun that is ideal for prolonged sunlight and exposure. These conditions allow for prolonged sun exposure and warmth provide for ripe tannins, a primary characteristic of Red Mountain.
Warm Summers
More growing degree days create ripeness and concentration, while cool nights help retain acidity for balance and structure.
Low Rainfall
Red Mountain gathers less than 8 inches of rain per year. Drip irrigation and canopy management create ideal grape growing conditions. In addition, Red Mountain experience lower mold and mildew pressure compared to most other vineyard regions.
Smallest AVA in Washington
Defined by natural borders, the AVA is reminiscent of Old World, where every block is seen by a single vantage point. The Red Mountain AVA which was established in 2001, is comprised of 4,040 acres, 2,338 of which are planted with predominantly Cabernet Sauvignon.
AVA Specific Soils
Wind-blown Loess (Warden, Hezel, and Scooteney) were brought in by pre-historic floods. The high alkalinity and calcium carbonate content of the soil, along with the granular consistency, allow vines to form well-established root systems that reach deep nutrients and moisture.
Consistent Winds
Regular gusts of warm air keep grape clusters small and concentrate for flavors of the fruit for richness and intensity.