January 23, 2015 | Michelle Marsh
Tuna Steaks + Malbec
It's January, which means that although it's still freezing out there we're starting to grow tired of winter stews and heavy holiday food. I've been trying to incorporate some fresh dinners at my house as of the start of this new year, and this Cajun seasoned Tuna (and a glass of the new release of 2012 Northridge Vineyard Malbec) is sure to kick up the spice and keep you warm.
You can buy Cajun Seasoning in the spice isle of any grocery store, however, it's EASY to make yourself with spices you already have in your cabinet. I mixed mine and stored it in a small mason jar.
CAJUN SEASONING
2 teaspoons salt
2 teaspoons garlic powder
2 1/2 teaspoons paprika
1 teaspoon ground black pepper
1 teaspoon onion powder
1 teaspoon cayenne pepper
1 1/4 teaspoons dried oregano
1 1/4 teaspoons dried thyme
1/2 teaspoon red pepper flakes (optional)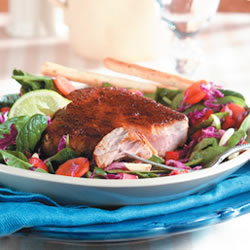 Living in Seattle, it's generally pretty easy to pick up fresh tuna steaks at a nearby PCC or Whole Foods but after a little research I have found that most stores will carry frozen tuna steaks at the Seafood counter if you cannot find fresh. For our friends in the Tri-Cities, I found out that if you call ahead to Yokes a day or so in advance they can usually order in fresh tuna steaks for you (awesome!) or they will always have a stock of frozen you can pick up.
Here's the recipe for quick, easy, and healthy Blackened Tuna Steaks which are perfectly paired wild rice, an arugula salad, and a glass of our new release 2012 Northridge Malbec. Cheers!