November 3, 2016 |
Chelsea Brophy
Driving down Sunset and around Red Mountain it is so clear why this truly is my favorite time of the year. The leaves have been changing and if you've recently paid a visit to Red Mountain you can see the beauty that is hiding down every row. As we begin to release the last wines of the year we are set to showcase our Ciel du Cheval Release, which is always my favorite release of the year.
The Ciel du Cheval Vineyard is the second oldest vineyard on Red Mountain and was planted in 1975. Many people often ask the translation of Ciel du Cheval and for those of you who speak French or remember learning French in school know it as, "sky horse." Now flashback to the 1970's when Red Mountain was nothing more than a hill with sagebrush and you have a newly planted vineyard that looks in the direction of the Horse Heaven Hills. And there you have it! The long unanswered question of the meaning behind Ciel du Cheval. These wines are the perfect pairing for every holiday table and gathering. Recommended to drink now or share with friends and family.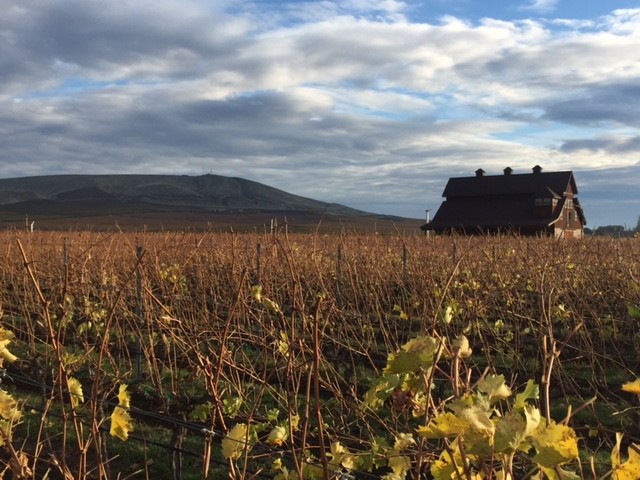 2013 Ciel du Cheval Cabernet Sauvignon

Ciel du Cheval Vineyard provides the fruit for this big, bold, Cabernet Sauvignon, giving us everything we'd hope for from a Red Mountain Cab. We find red and black fruits on the nose, along with chocolate, tobacco, and a touch of baking spice. These are confirmed on the palate, adding blueberry and cassis, currants, mulled berries, and vanilla, all amongst chewy tannins, and a lengthy finish. Drink now through 2025.
2013 Ciel du Cheval Merlot

Merlot is one of Charlie's favorite grapes to work with, so the opportunity to create a varietal Merlot from one of the most established vineyards on Red Mountain was irresistible. The aromatics on this 2013 vintage are dense and plentiful, with raspberries, strawberries, violets, and white pepper. The palate is rich, adding notes of bourbon soaked cherries, sweet tobacco, and a slight minerality, all with a soft intake, and elegant, rounded tannins. This wine has plenty of time to develop in the cellar. Drink now through 2023.
2013 Ciel du Cheval Red Wine

Ciel du Cheval Vineyard Red Wine is our 'right bank' blend, comprised mostly of Merlot. This wine is soft and elegant, showcasing raspberry, blackberry, dried thyme, and just a touch of cocoa. The palate is plush and velvety, full of red and blue fruit tones, cedar, and baking spice, surrounded by fine grained tannins and a lasting finish. Drink now through 2021.
2013 Ciel du Cheval Cabernet Franc

This varietal Cabernet Franc from Ciel du Cheval Vineyard is a perennial fan favorite, and is always hard to come by. The nose is delicate, with blueberry and plum notes, fresh figs, and a soft mocha characteristic. The palate is lush, showing velvety tannins, and an elegant, lengthy finish. Drink now through 2021.
2013 Ciel du Cheval Petit Verdot

Petit Verdot, rarely a standalone varietal, is the sole grape in this unique wine from Ciel du Cheval Vineyard. We love the unique, bold style, and deep purple hue of this limited production wine. Aromas of dense, dark cherry, cola, plums, and sage rise from the glass, backed by a palate of blackberries, dried herbs, and minerality, all set with balanced acidity and structured tannins. Drink now through 2021.