May 11, 2017 |
Michelle Marsh
This winter we started a big and exciting project that Charlie had always envisioned for Fidelitas. We dug deep in the archives and pulled pallets worth of wine from our offsite storage facility to find the rarest Fidelitas wines in existence. Last Friday, May 5th, as we celebrated our 10th annual Feast of St. Fidelis on Red Mountain we were able to unveil the grand addition to our home on Red Mountain, the Fidelitas Library.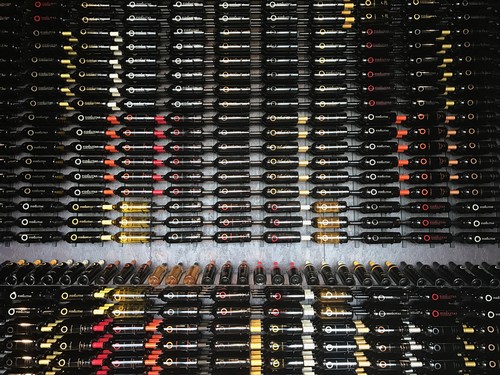 The Fidelitas Library, located in what was once our barrel display room, houses a new version of our iconic wine wall spanning over 18 feet wide and 12 feet tall, it holds 1,260 bottles. Wines dating back to our very first release of 2000 Meritage cover the wall and include some of our most sought after vintages and limited release wines.
Here's what Charlie has to say about some of his favorite vintages to date:
1994 - I worked at Chateau Ste. Michelle at the time and we were really starting to figure things out in our new facility at Canoe Ridge. First vintage of Col Solare made with the Antinori's.
1999 - Very interesting vintage in that everything seemed to get ripe but also retained incredibly high acids. Very old world with high natural acids.
2005 - Right now for me the best wines we have made for Fidelitas since we started and the best vintage I have been affiliated in Washington since my first vintage in 1988.
2007 - Beautiful wines with incredible balance. Maybe not quite the same ripeness as 2009 but close.
2009 - Wonderful wines that have great potential for aging. Warm vintage and very ripe fruit.
2010 - A very nice vintage, and very much like the 1999 vintage from Washington.
2013 – A great, great vintage.
Other Great Ones - 2001, 1995 & 1989.
Best Vintage That I Tasted But Did Not Make: 1983. Considered by many as one of the greatest vintages ever from Washington. Had the opportunity to taste a vertical of all Woodward Canyon Cab Sauv/Old Vines in or around 2000. The 1983 Cabernet Sauvignon from Woodward Canyon stood high above the rest.
Finally, after years of aging, these wines are available for your enjoyment. In an effort to manage these limited wines the best way possible, wine requests may be submitted and we will follow up with you to confirm the availability. All requests will be managed on a first come, first serve basis, and have a 2 week fulfillment turn around.
Ready to get your hands on some of those special bottles from years past? Email us at wine@fidelitaswines.com for more information.