January 16, 2019 |
Jess Zander
Selling wine can be so hard.
Before we can present a new wine to our customers, there is so much preparation that goes in to the release. I'm not talking about the effort that the growers put in to each vine, or the work that Charlie and his team dedicate to carefully crafting each product, or even the hours I log deciding on glass and labels and all of the other packaging details. I am talking about all of the wines that we HAVE to taste and information we gather prior to release to make sure that they are just perfect.
Below are a handful of (unofficial, personal opinion) notes on the releases we have coming out the first half of 2019, in order of their release.*
2016 Red Mountain Malbec
January Release | 578 cases | $45
Tasting this recently with Charlie we asked "where are all of those new flavors coming from?". He explained that compared to 2014 and 2015, which were so toasty on Red Mountain, the 2016 vintage was a tad cooler, and that really allowed for the flavors of the varietal to come through. Charlie has been cited as "Washington's top Malbec producer" by a number of authors, and with good reason. This Malbec has the power you'd expect from Red Mountain, along with the elegance I expect from a Charlie Hoppes Malbec.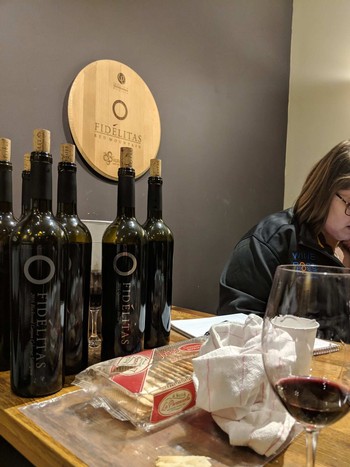 Associate Winemaker, Hillary Sjolund, working on tasting notes for the 2016 reds.
2016 Red Mountain Merlot
February Release | 578 cases | $45
Red Mountain Merlot is the first AVA-designated wine that Fidelitas made on Red Mountain. For years and years, this was a favorite around the Zander household. I have to admit, these recent warmer vintages (2014/2015) threw me a little bit on the Merlot but tasting this 2016 vintage has me right back on track as a favorite in the line-up. The wine is bright and cheery, bursting with red fruit tones and enough structure to make it exciting but not too bold to be saved for special occasions. I'm excited to pair this with some quiet time on the couch after the kids go to bed.
2016 Optu Red Mountain
February Release | 624 cases + 60 magnums | $60
Oh Optu, you lovely wine. At last weekend's preview tasting, members kept asking for my favorite wine in the room. And while I would NEVER play favorites, my heart kept tugging towards the Optu. Perhaps it's the Cabernet-dominate blend. Or the heavy role that the Fidelitas Estate Vineyard plays in the make up (a first with this vintage!). Or maybe it's the fact that I know Charlie actually does put a little extra love in to this blend. It's the 'wine that started it all'. The one we have made in every vintage since we began in 2000. And as our optimum blend, it's perfectly yummy right now and so age worthy for those who can wait.
Happy Optu + Magna members at the January 2019 Preview Tasting in Woodinville.
2016 Blackwood Canyon Cabernet Sauvignon
February Release | 288 cases | $70 | CLUB ONLY
This is our third vintage released from Blackwood Canyon Vineyard. Many are familiar with this landmark Red Mountain vineyard and have stories to share from over the years. What we know is that the fruit is AMAZING. This is old vine Cabernet from the AVA, using grapes that were originally planted in 1984. The vineyard went through a few years of neglect but were lovingly brought back to full glory in the past decade. The result is a rich, dense Cabernet with exceptional structure and depth. We are so excited about this vineyard site as it sits adjacent to the blocks of our own Estate Vineyard that were planted in 2015. To think of what we'll have to work with in 30 years!
2016 The Canyons Vineyard Red Wine
April Release | 384 cases | $45
The Canyons Vineyard is aptly named for the deep ravines that cut up the side of Red Mountain from the Yakima River below. The gives us vines growing on crazy sideways slopes up and down each canyon. We source Cabernet Sauvignon, Malbec, and Merlot from this site and put all three together to make this blend. I think it's a perfect summertime blend and can't wait to enjoy a bottle on the deck with some BBQ as soon as these temps warm up. (dreaming of warmer days on this super cold morning in Seattle…)
2016 Quintessence Vineyard Merlot
April Release | 142 cases | $55 | CLUB ONLY
Now, Charlie doesn't play favorites either, but we all know he is a HUGE fan of Quintessence Vineyard and really loves to work with Merlot. Any chance he can get, Charlie is telling us stories about when he first started making wine in Washington, and that Merlot is really what put Washington on the map as a growing region. This is our first vintage of Merlot from Quintessence Vineyard and we all agree that it's an awesome way to start! Across the board, we see a bit more structure to the wines from Quintessence. This Merlot provides much darker fruit tones than the Red Mountain Merlot, and has some added aging potential as well.
2016 Quintessence Vineyard Malbec
April Release | 96 cases | $55 | CLUB ONLY
During our team meeting last week, we tasted through the whole line up and Skye refused to keep tasting after the Quintessence Malbec. "I'll just spend the rest of my day with this wine," she said. Like the Merlots, this vineyard designated Malbec provides a deeper, richer, more complex profile than the Red Mountain counterparts. Quintessence is a relatively young site and Charlie actually got to give a little input on what he'd like to see planted. Malbec was high on his request list with dreams of making exactly this wine, just for Fidelitas Club members.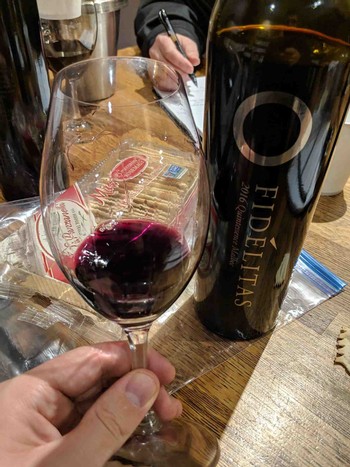 Will tasting the 2016 Quintessence Vineyard Malbec.
2016 Quintessence Vineyard Cabernet Sauvignon
April Release | 624 cases + 18 magnums| $70
We've been working with Quintessence Vineyard fruit since the 2012 vintage, and it has been so great to see it evolve over the years. We use two French ENTAV clones, 169 and 191, in the Quintessence Vineyard Cabernet Sauvignon. That means, these are grapes that are registered with the French government and might be found in some of those lovely wines from Bordeaux. To me, it gives the wine a multi-dimensional profile that has the earthiness we'd see in Old World wines, coupled with the bold tannins and bright fruit tones are icons of the Red Mountain AVA. This is definitely worthy of some time in the cellar and I cannot wait to see how each vintage continues to evolve over the years.
2016 Quintessence Vineyard Cabernet Sauvignon - Clone 169
April Release | 48 cases | $75 | CLUB ONLY
Fair warning: at the time of writing this blog post, we have 4.5 cases left of this wine. If you are reading this on January 16, and want this in your allocation…do it now! The other 43 have been allocated in less than 48 hours…
Charlie called me during his blending trials last year and said "we HAVE to do 2 single clone Cabernets from Quintessence". I told him he was crazy and called Michelle who told me it was the coolest idea ever. So, I countered by asking him to choose just 1 clone and 2 days later he settled on the Clone 169. Why? To him – it just has the most unique qualities that stand out. Tannic structure, depth, complexity are all big markers of the ENTAV Clone 169, and those surely show in this wine. If you can't wait to try it once you get it home, please pass it through a decanter or let it breathe in the bottle for a bit first. It's a big guy that opens up so beautifully with a little time.
Learn more about Clones HERE and HERE.
We cannot wait to share all of these lovely releases with you in the months to come!
*a note about release dates: the actual date will vary based on Club level. Many wines are Club only and will not be seen in the tasting rooms.