May 18, 2017 |
Charlie Hoppes
This upcoming harvest will be my 30th, and I can easily say that I've seen night and day differences in the Washington wine industry over the last three decades.
I was hired out of UC Davis in 1988 by Mike Januik to work at FW Langguth, just outside of Mattawa. Our emphasis was definitely on white wines: Riesling, Chenin Blanc, and some Sauvignon Blanc and Chardonnay. We did a few reds (Cabernet, Merlot, and Lemberger) but they were somewhat of an afterthought, and 90% of our production at that facility was sweet, fruity whites that would be released by Thanksgiving of each vintage.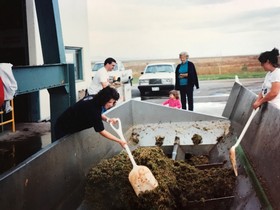 At FW Langguth with daughter Emily, who called the grapes "peas", in 1988.
At this point in time, the industry was still fairly small, and grapes were somewhat hard to come by. Chateau Ste. Michelle was dominating the industry, with a few small others starting to emerge, like Preston and Hogue. There were probably less than 35 wineries in the industry at that time. There weren't as many opportunities or money in the industry, employment wise, but it was a great start for initial perspective.
This probably puts me in the realm of someone who is a veteran in Washington. There aren't many of us who have been around that long who are still at it now. Maybe David Forsyth, Mike Januik, Joy Andersen, Doug Gore, Gordy Hill, and Brian Carter to name just a few. Not too many people!
---
When I reflect on 30 years in the industry, and think of where it has been and where it is going, I feel optimistic for our future. We've accomplished a lot in the time it has been going on, but I think we're in a great place and poise to make an impact on the world of wine. Today, it's easier than ever to enter the business in Washington, and we've found a lot of great grape growing sites over the decades. There are new opportunities, that even California wineries are taking advantage of by moving to the Northwest. We still make a lot of white, but often those are lower price blends from larger companies. At Fidelitas, 90% of our production is red wine. We've been able to find some really nice white grapes on Red Mountain, but our focus is really on the reds, as evidenced by what is planted in our own vineyard. This is really a trend for Red Mountain as a whole, and different from where I began, with 95% of its planted acres dedicated to red grapes.
Washington is differentiated from the old world, really by the market forces. Unlike France, there is no one telling us what we can plant where, and that has opened us up to being able to adjust with the marketplace demand without having to ask permission first. We can always plant, and pull, depending on what works in a vineyard site, and in the market. On Red Mountain, we are seeing that the plantings are mostly Cabernet Sauvignon, and probably 90% of the red grapes Bordeaux varietals. There are some other varietals planted as well, but in smaller quantities. Right now, I think that shows us the demand and where that is leading us in the future.
I, and now Fidelitas, was drawn to Red Mountain based on the wines that we were making, and wanted to focus on more. I always knew that I wanted to make Red Mountain wines, but the access to the fruit was so limited. We had to look elsewhere for fruit when we first started, and before I could ever make the wines that we are making today, I was tasting wines from other wineries who were able to get Red Mountain fruit. In the early 2000's, that meant that grapes were sourced mainly from Klipsun, Kiona, Ciel du Cheval, Red Mountain Vineyard, and a bit of Hedges Estate.
---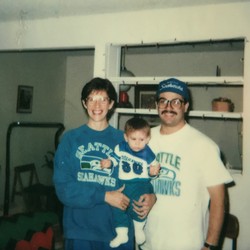 More than just Red Mountain has changed since 1989.
I'll always remember my first visit to Red Mountain, and it's a story I've told many times, because it was the day my daughter Allison was born. I was at Lemberger Days at Kiona, on June 11, 1989, pouring Lemberger for Snoqualmie winery. That day, we drove around with my wife, Terri, her mom, and my first daughter, Emily. It was a warm day, with just a small crowd, maybe 50-60 people, and Don Mercer gave a long speech about the benefits of Lemberger and how great it'd be in the future. Ali was born later that evening.
In 1988, Red Mountain had just a pothole infested gravel road that went up the mountain and was otherwise inhabited by just apple orchards, sagebrush, rattlesnakes, and just a few vineyards. Still, I thought this could really be something someday. Trying the wines from this region, I could see they were different, intense, and special.
I worked at Chateau Ste. Michelle beginning in 1990, and as head red winemaker starting in 1993, and by 1998, found myself at a crossroads in my career, ready to try my own style. With a big winery like that, you can become a career winemaker and retire with the company, or decide to create something on your own. At that time, it wasn't as common to have a label within the company, so I ventured out with the encouragement of family to start my own brand.
---

I feel like the first 30 years of my career could be called a pioneering stage. I made a lot of great wines from a lot of great vineyard sites, and growing regions, but now that we've been making Red Mountain wines since 2005, I've decided to completely focus our line up on Red Mountain. When I look at Red Mountain, I know that this is a region that can stand the test of time, and that is evidenced by the wines made by those 40+ year old vines. Everyone in the state gravitates to Red Mountain to make a really great, concentrated, tannic wine. That's the style I thought I wanted to make, and although I couldn't access Red Mountain fruit for our first vintage in 2000, we did find some great vineyards like Weinbau, Windrow, and of course, Champoux Vineyard. By 2005, we were able to add Red Mountain fruit to the line up and are now all in on this one region.
I still feel like we are just touching the tip of the iceberg on the potential of Red Mountain. I say that with a biased Red Mountain or Washington palate, but have tasted wines from all over the world, with Bordeaux and California as our competitive framework, and really feel like what we can do on Red Mountain can be every bit as good as those wines. Certainly, they are different, but I'm bullish on the future, and know that Red Mountain will be thought of in the same sense as all of those great growing regions of the world.
---
Today, our product line up - outside of Ciel du Cheval, and some anomalies like the old vines of Blackwood Canyon Vineyard, and Kiona Vineyard – is sourced from vineyards that are fairly young, including Quintessence Vineyard (planted in 2008), the Fidelitas Estate Vineyard, and the Canyons Vineyard (both planted in 2009). For the most part, we are just starting to see how these vineyards will show in the future, including our own Estate. It's an exciting time. The winemaking style is constantly evolving, and I don't feel like it's ever totally figured out or dialed in, like you may see in California where blocks and barrels are determined without a ton of variation each vintage. Our own style is still emerging somewhat, and at least until the Estate Vineyard is totally up and going, and we continue to move forward with other vineyard sites on the mountain.
On the winemaking side, we're constantly evolving as well. One of our newer focuses is fermentation in the presence of oak, which started in 2011 and 2012 vintage reds with oak uprights and roller fermenters. This year, we'll add a few closed top oak fermenters, that will be used in the 2017 vintage, and enable us to have at least 50% of our reds fermented in wood. Over the years, our product line up that once included Chardonnay and Syrah, has been focused on Bordeaux varietals. In 2007, our physical presence on Red Mountain, and then the planting of our Estate Vineyard in 2009, guided that focus. It's what I'm most comfortable and familiar with after my 30 years, and seems to be a natural fit for Fidelitas.
---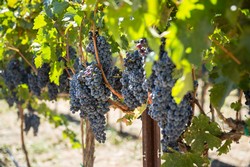 I am really excited to see what the Fidelitas Estate Vineyard is going to give us. The first few vintages have been great, and we'll see more come on line beginning in the 2017 vintage. We always felt that establishing ourselves, with a tasting room and vineyard, on Red Mountain would be sustainable for future generations to pass on. This was a goal that we discussed when we first started to build Fidelitas, and are continuing to chat about as we look towards the future.